Main content
Talking mobiles: Alexander Calder at Tate Modern
By William Cook | 10 November 2015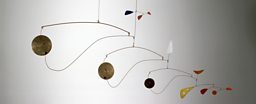 Triple Gong (c.1948) Calder studied engineering, then painting, and worked as an illustrator before turning to sculpture.
Alexander Calder transformed our idea of what sculpture ought to be. He freed his sculptures from plinths and pedestals. He hung them from the ceiling. He made them move. He made them sing.
These 'performing sculptures' were so novel that Marcel Duchamp coined a brand new term for them. Duchamp called them 'mobiles.' And now some of Calder's finest mobiles (and many of his other sculptures) have been brought together in a bold new show at London's Tate Modern.
So many of these works are like family members

Alexander Rower
At the opening of this exhibition, I spoke to Calder's grandson, Alexander Rower. Rower has devoted half a lifetime to his grandfather's legacy. He established the Calder Foundation in 1987, when he was just 24. "I knew my grandfather very well," he says. "I was 13 when he died. I was young, but my family was very small and very close so we were always together."
Rower adored his grandfather's work from an early age. "When I was three or four, there were certain sculptures that I really wanted to have. I understood that they were sculpture, that they weren't toys - that they weren't to be played with." But he loved them all the same. He grew up around Calder's artworks. One of the sculptures in this exhibition used to stand in his parents' bedroom.
Half a century later, Rower's passion for his grandfather's art endures. "So many of these works are like family members," he says, as we stop in front of a piece called Acrobats, depicting two trapeze artists. "This sculpture had been damaged and separated – it was last exhibited in 1929. It's the first time the public gets to see it in its restored state. It's very exciting. It's incredibly gratifying. It took me 20 years to bring the two parts back together and restore them, and to be able to present them."
Alexander Calder was born in Pennsylvania in 1898. Art was in his blood. His father and grandfather were both sculptors. His mother was a painter. He studied engineering, then turned to painting, and worked as an illustrator in New York. In 1926 he moved to Paris and his career took off.
"His sister was born in Paris," says Rower. "He had an innate relationship with the city." In Paris Calder started making wire figures of astonishing spontaneity. They weren't like conventional sculptures. They were more like doodles in the air. "People had a lot of trouble with that in the 1920s," says Rower. "They said, 'It's not sculpture'. Well, if it's not sculpture, what is it?"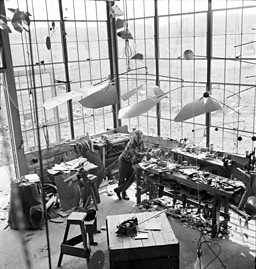 Alexander Calder in his Roxbury studio (1941)
Paris in the 1920s was the centre of the art world. Here, Calder befriended many of the leading artists of the age. His wire sculptures of Joan Miro and Ferdinand Leger were brilliant portraits, but his greatest inspiration was the circus. "It wasn't the daring of the performers, nor the tricks and gimmicks," said Calder. "It was the fantastic balance in motion." His circus sculptures capture that balletic beauty. They're full of life, and fun.
Calder broke down the boundaries between the plastic and performing arts
In 1930, Calder met Piet Mondrian, and his art changed course again. He was excited by Mondrian's abstract paintings, but Calder added another element – movement. Drawing on his engineering background, he constructed a series of mechanical sculptures which brought a new dimension to this art form. Calder likened it to choreography.
In 1937, during the Spanish Civil War, he made a fountain for the Spanish Republican Pavilion at the Paris Exposition. It was shown alongside Picasso's Guernica – two liberal masterpieces, side by side.
Calder broke down the boundaries between the plastic and performing arts. He collaborated with dancers and musicians. He worked with composers like John Cage. His art belonged to every genre, and none at all. You could say he was the world's first performance artist.
Yet it was his mobiles which became his trademark, and so it's fitting that they form the climax of this graceful show. There's something mesmeric, almost hypnotic, about them. Time seems to slow down when you're watching them. Even in a still and silent gallery, they're always shifting – reacting to every movement in the room, however slight.
Alexander Calder died in 1976. "At the end of Calder's life, he was seen as a contemporary of Warhol and Lichtenstein," says Rower. "He was making work that was relevant to each decade. He wasn't considered passé. People still wanted to buy his art in the Sixties and Seventies – in vast quantities."
He was a generation older than Warhol or Lichtenstein, yet he actually seems more modern. Most of the exhibits in this show date back to the 1930s. They still appear avant-garde today.
"He was a great innovator," adds Rower. "He began this language of drawing in space, which is a term first used for Calder, and later used for Picasso." And, like Picasso, his influence was immense. "Calder's father was a great sculptor. His grandfather was a great sculptor. They used clay and bronze and marble, and traditional materials, and he pushed it all aside.'
Alexander Calder – Performing Sculpture is at Tate Modern in London from 11 November 2015 to 3 April 2016
Performing Sculpture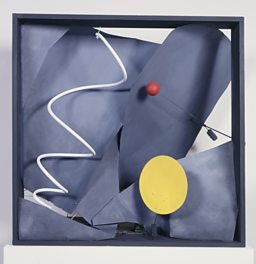 Black Frame (1934)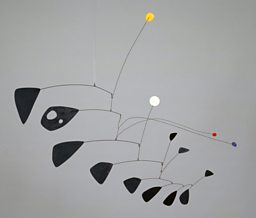 Antennae with Red and Blue Dots (1953)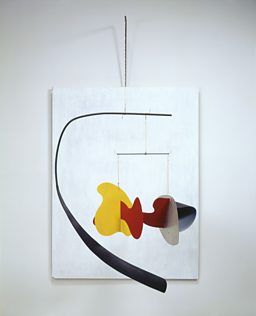 White Panel (1936)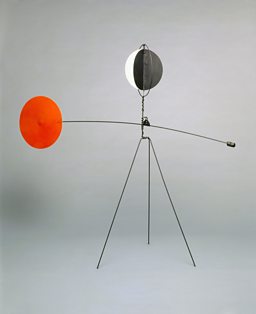 Red and Yellow Vane (1934)
All images © 2015 Calder Foundation, New York / DACS, London
Excerpt from a 1955 film by Jean Painleve, published on YouTube by Whitney Museum of American Art.
Arts highlights on BBC iPlayer