Main content
Gordon Ramsay: Nine things we learned when he talked to Joe Wicks
In The Joe Wicks Podcast, author and fitness coach Joe talks to inspirational people from all walks of life to find out what keeps them physically and mentally strong. His first guest is world famous chef Gordon Ramsay, who tells Joe how exercise improves his mental health, how triathlons are a family activity and how he discovered he has a very, very famous neighbour. Here are nine things we learned…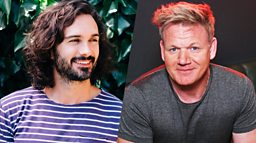 Gordon spoke to Joe from his house in Cornwall
1. Gordon lived on 14 different council estates as a child
A father of five, Gordon says the most important thing he wants to give his children is the stability he lacked as a child. Moving around Scotland before settling in Stratford-Upon-Avon, Gordon grew up on 14 different council estates. "Having that kind of disruption… from the age of five to 16, it was a massive blow, because you never settled. So, the one thing I wanted to have with my kids is security." He says he's had a particular focus on that during lockdown. "Lockdown, for me, happened perfectly because it sort of helped me to get closer to [my kids], to make sure that they didn't feel scared about this situation."
2. Cycling has helped him keep mentally healthy in lockdown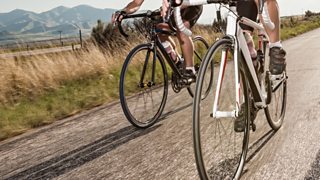 Gordon Ramsay on his bike
A clip from The Joe Wicks Podcast
Gordon is a passionate cyclist and says getting out on his bike has really helped his, and his family's, mental health. Even outside of lockdown, it gives him time away from his hectic work and time to focus on the world around him. "There's something really therapeutic about being out in nature," he says. "We saw this amazing falcon on the way back from Newquay, just perched on the top of this beautiful post, sat there looking for his prey, observing everything. It was just one of those moments… Cycling has really kept it together for us."
3. But cycling has given him some trouble in… personal areas
Getting out on his bike has been great for his mind, but Gordon says all that time on a saddle has caused some physical pain, in very delicate places. So, he sought advice from a medal-winning Olympian. "I said to Mark Cavendish… 'Dude, that patch between my legs. Those saddles. It f***ing hurts like mad.' He said, 'Yeah, you've just got to get rhino skin down there.' But it's one of the most sensitive areas on a man!
I'm trying to keep my mum off Stevie Wonder… She wanted to take him a sandwich.

Gordon Ramsay on his famous neighbour
4. Gordon has an incredibly famous LA neighbour
As a very successful chef and television personality in the UK and America, Gordon of course has an LA home, in Bel Air Crest. Back in 2012, he got a new neighbour who turned out to be one of the most famous living musicians. "A big truck turned up and all these boxes arriving, then this beautiful piano came out of the back of a lorry. Next minute the SUV turns up: Stevie Wonder." Gordon leaves his neighbour alone, but other family members are less subtle. "Mum's desperate to meet him, so I'm trying to keep my mum off Stevie Wonder… She wanted to take him a sandwich."
5. His father's death changed his priorities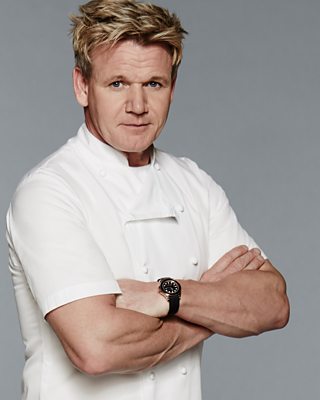 Sometimes the journey back from adversity, climbing the ladder again, is actually more enjoyable than it is when you're sitting at the top.

Gordon Ramsay
Gordon's father, who was an alcoholic, died at the age of 53, when Gordon was 32. Gordon was already a very successful chef, working long, busy hours. He says the moment he heard his father had died made him re-evaluate what's important in life. "I started getting my act together. You've got to prioritise. Family first, business second. Then your health comes in third, because of the pressure you've got yourself under. Once the family was on the way and the business was open, it was time to take care of myself. When I got the chance to get my health and fitness back, I couldn't stop."
6. He can run a marathon in three hours 30 minutes
When he ran his first marathon, Gordon was not happy with himself. He felt unfit and slow. As a man who holds high standards for himself, he worked hard to keep beating his own time. "My first marathon was like five hours 20 and I got that down to three [hours] 30. Then I started getting involved with… ultramarathons." But even that wasn't far enough. "Then I started triathlons. The dream was to do my first ironman by the age of 40." And he did.
7. Triathlons are a family affair
Fitness is big in the Ramsay household and both his wife and three of his kids have followed him into triathlon competitions (new baby Oscar is not quite there yet). "Tana [Gordon's wife] did her first ironman three years ago. Jack did his first ironman two years ago. Meg did the London triathlon with me three years ago. Tilly did one. Sometimes we do relay where I'll do the bike, Tilly will do the swim and Jack will do the run. You'd be amazed how much fun there is to have. And it's not about winning. It's about competing in that atmosphere."
8. He insists his employees exercise
Maintaining fitness has become so vital to Gordon's wellbeing that he encourages the teams in his restaurants to focus on health too. "The pressure on a chef today is insane. The team I've got behind me, I instil that level of fitness in all of them," he says. "I always check in with the guys and girls – 'Do you have a gym pass?' Even if it's just 20 minutes, I suggest you walk to work in the spring. Run home in the evening. Just like I did in the old days."
9. He lives by his mum's wisdom
Gordon has a very close relationship with his mother. Through any difficulties, at work or outside, he remembers one bit of advice from her. "She dealt with an alcoholic husband and a son who went on to become a prolific heroin user – that was my bro. She said, 'Gordon, find the solution. Don't look at the problem; find the solution.' If you look for the solution… sometimes the journey back from adversity, climbing the ladder again, is actually more enjoyable than it is when you're sitting at the top."
More from Radio 4
Gordon talks to Joe about cycling, growing up and his famous neighbours.

Louis is using the lockdown to track down some high-profile people he's been longing to talk to.