Main content
5 live Ones To Watch
BBC Radio 5 Live has announced its 'Ones to Watch' digital influencer list, with Harry Metcalfe, Managing director of dwx, taking the top spot for his role helping public sector organisations improve their digital services.
As part of the BBC Make it Digital initiative, BBC Radio 5 Live listeners nominated their Ones to Watch in the digital sector over the last eight weeks. The nominations, accompanied by on-air features, were designed to identify and celebrate the ground-breaking but often uncelebrated leaders of the digital industry.
The Ones to Watch judges – Rory Cellan-Jones, BBC Technology Correspondent; Emma Mulqueeny, Founder/CEO, Young Rewired State; Maggie Philbin, Founder and CEO, Teen Tech; and Phil Smith, Chief Executive UK and Ireland, CISCO – shortlisted ten potential winners to reflect the diverse nature of the nominees and their work.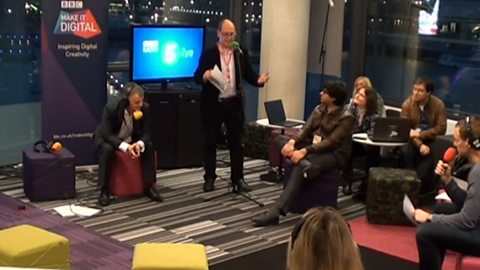 Harry Metcalfe, managing director of dxw, is named winner of Digital Ones To Watch.
The full Ones to Watch digital influencer list includes:
Winner Harry Metcalfe, Managing Director of dxw, a company he founded in 2008 to work with public sector organisations to improve their digital services with the aim of saving public money and improving user experiences. Harry has delivered more than 40 digital projects for central and local government, the NHS and the housing sector
Matthew Applegate, Founder of the Creative Computing Club, whose teaching resources for his Suffolk school have been used all over the world. He now runs the organisation as a social enterprise in its own right
Nikki Cochrane, Co Founder and Director of Digital Mums, a company which turns returning-to-work Mums into social media managers, and matches them with businesses that need their help
Maya Dillon, Community Manager at Pivago. Maya matches data science academics with businesses that can use their intelligence to better understand their customers
Nicola Herbertson, Director of Hao2, creates 3D worlds to make businesses more accessible to customers, particularly those with complex needs such as autism. For example, providing live training services through an online gaming environment
Ellen Kerr, Entrepreneur Leader at Barking and Dagenham College, who leads 2Fix, a student-led IT enterprise that gives students a chance to work on digital projects for real clients. Ellen is also a Tech London Advocate and Co-Lead of the TLA Education group
Alan O Donohoe, ICT teacher & founder of the Raspberry Jam movement, events which bring together Raspberry Pi users to share and develop ideas in a collaborative environment. The events now stretch the globe
Charlie Southwell, Co Founder at Transmute, helps organisations use digital and social media at all levels and in all departments, to improve their bottom line.
Craig Steele, Founder of Coder DoJo Scotland, a national network of free coding clubs for young people, matching them with hundreds of coaches from across Scotland and passing on their skills.
Ross Targett, Co-Founder and CEO of Code Kingdoms, an innovative organisation that is set to inspire a new generation by providing a coding editor to help children write scripts for the BBC micro:bit, a pocket-sized, codeable computer being given to every 11 or 12 year old child in year 7 or equivalent across the UK, for free.