Main content
How we got to where we are tomorrow
As Douglas Adams's epic returns to radio four decades after it all began, we trace the cult of h2g2 - from radio to books to stage to TV to film and all the way back again...

I always think that the chances of finding out what really is going on are so absurdly remote that the only thing to do is to say "Hang the sense of it" and just keep yourself occupied.
- Slartibartfast, The Hitchhiker's Guide To The Galaxy
Left to right: Douglas Adams, producer Geoffrey Perkins and cast members David Tate, Geoffrey McGivern, Mark Wing-Davey, Simon Jones and Alan Ford at the original 1979 recordings
A lot of writers don't actually enjoy writing. The creative process can be a particularly bumpy road, ideas appearing at random or not appearing at all, but often all that stress and pressure is needed to get to the end result. Douglas Adams was most definitely that kind of writer.
Although Adams produced a considerable amount of scripts and novels in his ridiculously brief life, it was never easy. He was prone to writing notes about how irritated he was with the whole process, occasionally jotting down things like, "Today I am monumentally fed up with the idea of writing."
Yet nothing great comes easy, and there's no question that Adams was a great writer. How else to explain the fact that a comedy sci-fi about a man in a dressing gown, a depressed robot and a meandering search for the meaning of life is still as popular as it ever was 40 years later?
The very first episode of The Hitchhiker's Guide to the Galaxy was broadcast on BBC Radio 4 on 8 March 1978. It was initially intended as a quite different series entitled The Ends Of The Earth, in which all six episodes would end with the destruction of the Earth, an idea that eventually morphed into a series beginning with the end of the world and going from there.
The story of a normal bloke named Arthur Dent thrust into a surreal space adventure involving awful poetry and hyper-intelligent mice that begins when the Earth is blown up to make way for an intergalactic highway, The Hitchhiker's Guide to the Galaxy is the perfect blend of out-of-this-world adventure and deadpan British humour. It was also the first BBC radio comedy series to be broadcast in stereo, each programme featuring extensive sound work by the BBC Radiophonic Workshop. Like many great pieces of comedic writing, Hitchhiker's Guide baffled as many as it thrilled, one Radio Times reader describing it as "the most fatuous, inane, childish, pointless, codswalloping drivel". Which, to those in tune with the inherent silliness of the Hitchhiker's universe, sounds like a compliment.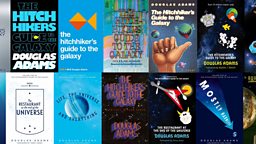 Various editions of Douglas Adams's Hitchhiker's Guide to the Galaxy novels (Pan Macmillan)
Adams's unique creation then began a long and winding journey to rival that of its dressing gown-clad protagonist, beginning with a novelisation based on the first four episodes of the radio series (the last two co-written by John Lloyd, who was given the boot for the book by Adams, who felt the novel would work best from a single voice), a bizarre London stage show in 1979 that featured the audience sitting on what amounted to a rubbish hover car, and a second radio series in 1980, which had been considerably delayed because Adams was busy with both the novelisations and working as a script editor for Doctor Who.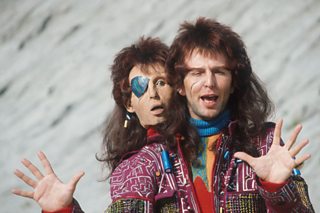 Mark Wing-Davey as Zaphod Beeblebrox in the television series
Following the release of the follow-up novel The Restaurant at the End of the Universe, Arthur Dent would make his televisual debut in a BBC series which many thought at the time was unfilmable (turns out it wasn't), whilst his literary equivalent ended up pondering Life, The Universe and Everything and saying So Long, and Thanks for All the Fish in two more novels that took Arthur to the planet of Krikkit and allowed Marvin the Paranoid Android to hear God's Final Message to his Creation: "We apologise for the inconvenience."
Adams then took some time away from Arthur and friends to pen the Dirk Gently books, until in 1992 he delivered what nobody then knew would be his final Hitchhiker's novel – Mostly Harmless – complete with a rather downbeat ending which Adams himself ultimately felt was a bit too gloomy.
Sadly, he never got a chance to rectify that finale: Adams passed away in 2001 at the tragically young age of 49. Hitchhiker's would live on though, with three more radio series, adapting the third, fourth and fifth books (complete with a much more upbeat ending), whilst a film co-scripted by Adams himself before his death would reach screens in 2005, with Martin Freeman donning the now infamous dressing gown.
But whilst all good things must come to an end, occasionally those good things then pop back for a new beginning – and so it was when in 2009 author Eoin Colfer published a brand new story based in the Hitchhiker's universe with the title of And Another Thing...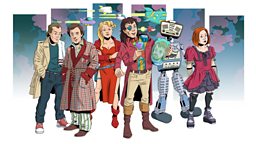 The main characters in Hexagonal Phase, illustrated by Trystan Mitchell / The Bigfoot Studio
That book, along with new material found within Adams's notes and unused scripts kept at his alma mater, St John's College Cambridge, is now used as the basis for a brand new Hitchhiker's radio series to mark the show's 40th anniversary - The Hexagonal Phase. Written, produced and directed by Dirk Maggs, Hexagonal Phase mixes original cast members such as Simon Jones with new voices that include Jim Broadbent as Marvin and Hitchhiker's fan Stephen Hawking.
It's been a long hike, one that's taken 40 years. Are we any closer to working out what's really going on in the universe? Why we're all here? Nope, but we do have some of the greatest science fiction comedy ever written to keep us occupied.
That's good enough.
More from The Hitchhiker's Guide to the Galaxy...
He's the last human alive, but in many ways he's much less than that.

John Lloyd uncovers the private papers of the late Douglas Adams.