Main content
The Rickshaw Challenge 2017
The Rickshaw Challenge is back for 2018! For all the information on this year's challenge head here
Below is our archived page for last year's challenge.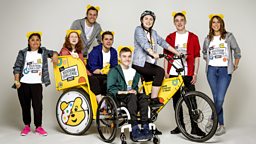 The One Show's Rickshaw Challenge has returned! This year's team will pedal an epic 500 miles to raise money for BBC Children in Need. In a first for the challenge, the team will embark on their journey from London, riding north to Glasgow.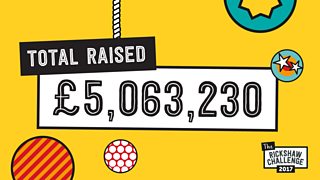 Since 2011, The Rickshaw Challenge has raised over £16 million for BBC Children in Need, and every penny that's donated goes towards helping children and young people across the UK.
The new team of six riders, all of whom have been supported by BBC Children in Need funded projects, will push themselves to the limit, battling steep hills and braving the elements in the hope that their efforts will help them raise as much money as possible.
Inspired by the amazing team this year? Take on your very own cycling challenge in the gym or on the road, and track your progress against the 500 mile Rickshaw route! Click here to sign up.
Cycling alongside the team once more is The One Show's Matt Baker, who will go on the road offering support and advice throughout the journey, whilst co-presenter, Alex Jones, will follow their every move and cheer the team on, live from the studio.
Setting off on Thursday 9th November from The One Show studio at New Broadcasting House in London, Team Rickshaw will work their way across the UK in a bid to cross the finish line in Glasgow on Friday 17th November, during BBC Children in Need's 2017 Appeal Show.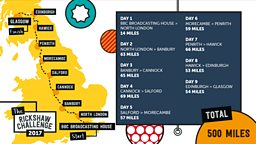 Follow the Riders!
Click here to check out where the Rickshaw is and see if it's coming to a stop near you!
Thanks to all the many supporters of the Rickshaw Challenge including:
Lookers
Halfords
Viewranger
Dare 2b
USE (Ultimate Sports Engineering)
Costco