Main content
Toy rollercoaster
This rollercoaster is an example of a tin-plate toy from the 1920s.
Many toys of this kind were made in Germany and France, and this rollercoaster is thought to have been made in Nuremberg. It is in fantastic condition, even though it has been played with over the years.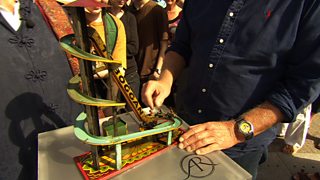 This example is usually found in America, where many were exported, and this is where the owner bought this example. If it came on to the market in the UK it would be sought-after by collectors who would be willing to pay in the region of £1,000-£1,500.
Did you know? Tin toys originated in the latter part of the 19th century. This includes mechanical toys using a variety of drive mechanisms to power simple movements.
Did you know? A rare steam-propelled toy tin-plate battleship sold for £76,000 in April 2012.
Get the app that lets you join in by guessing the values of items featured in the show.