Main content
Bollywood, Banjoleles, Ballads and Beyonce! A Musical Dream
Emma Rice's 'riotous and celebratory' Dream is infused with music - from the eerie underscoring of Puck's plotting to impromptu strains of contemporary Pop - and even a George Formby homage for good measure!
Composer Stu Barker was tasked with mixing Indian and Elizabethan music, with a touch of punk. The result was a riot of styles, interpreting traditional text and introducing more unusual elements to tell the story. Here are a few of our favourite moments from this infectiously musical production.
The live stream of A Midsummer Night's Dream is available to watch online internationally for 6 months.

All the background to this 'riotous and celebratory' production, from BBC Shakespeare Lives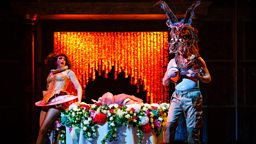 Meow Meow as Titania & Ewan Wardrop as Bottom - A Midsummer Night's Dream (credit: Steve Tanner)
Lysander's song 'to his mistress'
Bottom goes a bit George Formby
Left alone having scared off his colleagues with his newly transformed appearance as an ass, Bottom amuses himself with a ditty - and wakes Titania, who becomes instantly smitten...
A blessing from Oberon and Titania: Jill shall have Jill and Jack shall have Jack
"Hand in hand, with fairy grace, Will we sing, and bless this place" - Titania
Here, the script calls for a song and dance. And to embellish an earlier line from Puck ("Jack shall have Jill; Nought shall go ill") Titania and Oberon come together for this beautiful duet.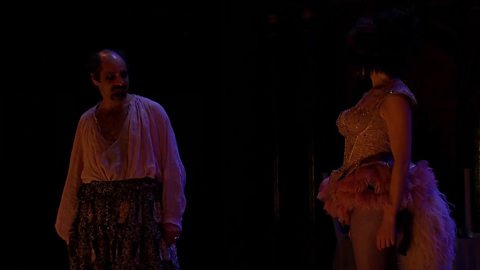 Titania and Oberon duet in Shakespeare's Globe's Midsummer Night's Dream
Shakespeare meets Bollywood meets Beyonce!
Hermia flaunts to Helenus the fact that she and Lysander are off to elope to get married.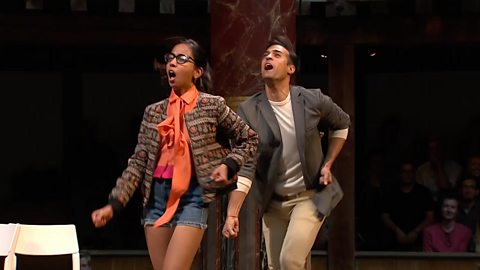 Bollywood Beyonce finds its way into Shakespeare's Globe's Dream Live
A final jig to close the show
A spirited and energetic closing dance featuring the whole cast, as they prepare to take their bows from a delighted audience.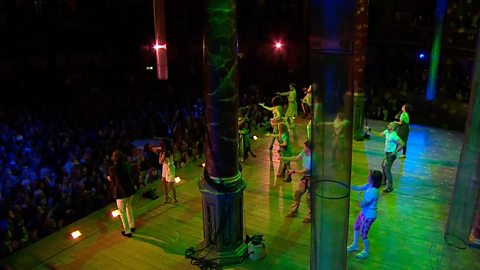 From the live production filmed at Shakespeare's Globe Theatre
Meet the composer and musicians
During our live coverage at Shakespeare's Globe before the final performance, presenter Lindsey Chapman met composer Stu Barker and Music Director Pat Moran. And Lindsey even got to have a go on a sitar, as she sat down with musician Sheema Mukherjee.
How did Stu and the team interpret director Emma Rice's vision? Find out everything you could possibly want to know about the music used in the show.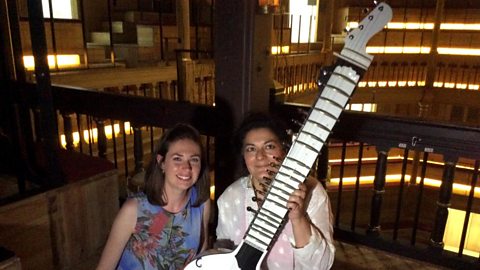 Lindsey Chapman meets the Composer and MD and has a go on a sitar!
More from Shakespeare Lives
Poet, playwright, muse: The BBC Proms celebrate the Bard's 400th anniversary.
Filmed in the round at the Royal Exchange Theatre, Manchester in front of a live theatre audience, King Lear played to sell out theatre crowds during its run, winning 4 and 5 star reviews across the board and was described by the Guardian as 'as close to definitive as can be'.

David Tennant stars as the doomed Richard II in Greg Doran's critically-acclaimed Royal Shakespeare Company production, available for the first time online across the world.