Main content
Nectar Fraud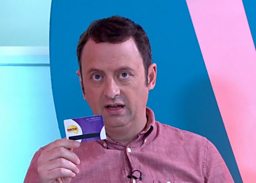 Watchdog viewers have written to us recently, to say that they have been alerted to fraudulent activity on their Nectar card. Some viewers have told us that the points are being spent in other parts of the country, even though they still have their original cards with them. All of them have HAD their points reinstated, but were not given an explanation as to how the points were taken.
Geoff Lindley checked his Nectar card online in September and found that the balance was minus 50,000. When he contacted Nectar, he was told that in June, the points were redeemed in three Argos stores across London for transactions worth 20,000 points each. Customer Services we unable to explain how the balance had been able to become a negative value or how someone had got his card details. The case was passed to the fraud department but he did not hear back from them. The points were reinstated on the card a month later.
When Maggie Nixon checked her receipt in Sainsbury's, she noticed that her points balance was very low. Customer Services in store told her to contact Nectar directly and inform the police of the incident, which she did. Nectar told her the points were redeemed in her local supermarket in two transactions the previous week- but she did not make these transactions. After a few months, the points had not been reinstated. When she chased Nectar, they did return the points to her. She was never given an explanation as to how the points were taken.
Tech expert David McLleland told Watchdog that Nectar cards may be vulnerable to fraud because there is no chip in the card, and no secondary level authentication needed when redeeming points- such as entering a PIN. He believes that a Nectar card is essentially a financial product- and should be subject to the same levels of security as a bank card.
Statement from Sainsbury's (which bought Nectar in 2018):
"We know people sometimes attempt to fraudulently access customer data. For Nectar, we have processes and systems in place to protect our customers.
"Since Sainsbury's bought Nectar earlier this year, we've introduced a range of additional security measures and will continually review and improve these. We also recommend customers use different passwords for different accounts to better protect themselves online."
"We're not able to give details of the security processes and systems we have in place, for obvious reasons, but can offer reassurances that we constantly review and improve these to protect our customers."