Main content
The most exciting games you'll never get to play
By Cameron McAllister // BBC The Social contributor // 8 February 2021
In 2020 we had to get used to hearing about gigs, films, TV shows and events being cancelled. For gamers this bad news is something we are well accustomed to.
With over 30 years of hugely anticipated games being chucked in the cancelled can I've decided to take a look at some of the most intriguing games that ended up being cancelled.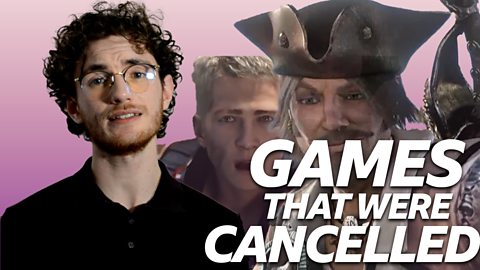 A look at seven games that everyone got excited about but that sadly never saw release.
Ewok Adventure
Despite having the licensed game curse looming over its head like a Death Star there has been some great Star Wars games over the years as well as more than a handful of terrible ones. Although the franchise boasts an impressively long list of published titles there's over 20 that didn't make it to the shelves. One of the earliest games to fall flat on its face was Ewok Adventure.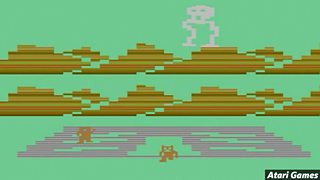 As you can tell from the title, you play as an Ewok who has to destroy a shield generator bunker on the forest moon of Endor, which is based on the battle from Return of the Jedi. To get to the bunker you fly a glider whilst throwing rocks at enemies below or if you prefer you can grand theft auto an AT-ST Walker or Speed Bike and drive through the forest avoiding various obstacles before you reach the bunker and blow it sky high.
Even though the game was completed in 1983 for the Atari 2600 Ewok Adventure was never released by the publishers as they deemed the controls to be too difficult. The game's designer gave the only known prototype of the game to his colleague's son who later sold it for $1,680.
Dirty Harry: The Videogame
Taking our heads out of the stars, we land back down on the doomed world of movie tie-ins with our next title Dirty Harry. The game was designed as a way of introducing a younger audience to the movie franchise. Warner Bros hired game studio The Collective to create a game for the next generation of consoles which at the time was Xbox 360 and PS3.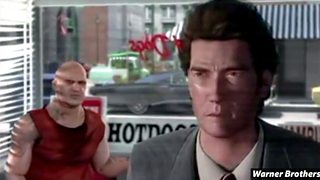 Clint Eastwood was set to reprise his role as the ever so jolly detective with Gene Hackman and Laurence Fishburne in supporting roles. A trailer for the next generation version of the game was revealed at E3 2006 although sadly in 2007 production was halted despite the studio being 70% of the way through development. Shortly after, the unannounced second Dirty Harry game was cancelled.
It was rumoured that Warner Brothers Interactive Entertainment then approached two other studios to make the next generation version of the game but because the first studio had used their own engine it meant the new studios had to start from scratch. In the end Warner Brothers gave up on their extravagant marketing strategy to entice a younger generation to the Dirty Harry franchise.
Pirates of the Caribbean: Armada of the Damned
Set before the events of the films you would have played as new character James Sterling as he set out to make a name for himself. Fame or infamy would have been down to the players choice.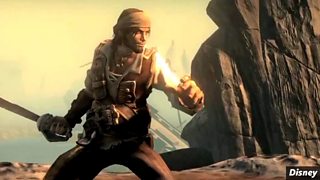 From trailers and gameplay footage it is clear to see Armada of the Damned wore its influences on its sleeve. The most notable of these being its quirky art style and morality meter which are both heavily inspired by the Fable series, even its combination of sword and gun gameplay looks ripped out of Fable 2.
Like the films before it, Armada of the Damned was a fantasy adventure mixing magic and the supernatural with swashbuckling and seafaring. The game's announcement was met with positivity when footage was revealed in 2009. Unfortunately, in 2010, despite being only months from release date, parent company Disney Interactive studios cancelled Armada of the Damned as well a restructuring of Propaganda Games, the studio making the game.
The staff working on Armada of The Damned, which now seems an ironically fitting title, were moved over to help finish the studio's other title TRON: Evolution as well as the after-release downloadable content. Unfortunately, because TRON: Evolution wasn't a success, Disney cancelled the extra content for the game and shut down Propaganda Games.
LMNO
Taking a leap from licenced games to movie directors making them we arrive at LMNO, which despite sounding like a pop party anthem from the early noughties was a huge project lead by Steven Spielberg.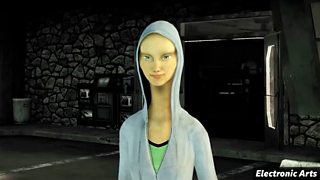 The ground-breaking project was intended to be a movie and game by the Hollywood legend based on his story about a man sent to get someone out of prison who turns out to be an alien; they then go on the run across America. The game was to be in first-person but instead of being a shooter like Call of Duty or Halo it would be all about hand-to-hand combat.
With one of the world's most successful directors and producers at the helm, with a crack team of game developers LMNO was set to be a sure-fire success. So, what went wrong?
It is unsure what the exact reason was behind the cancellation, even the developers don't seem to know unless they have been sworn to secrecy. What we do know is that there were rumours of the game being cancelled in 2008 but it wasn't until 2010 that EA made an official statement saying that they had ceased development of LMNO but maintained its relationship with Steven Spielberg.
This isn't the first time Spielberg has had bad luck with video games. One of his earliest forays into the medium was when he backed an E.T. game to be made in five weeks. The title was so poorly received it was blamed for the downfall of the American video game industry in the 80s. In 2014, copies of the game were found buried in the New Mexico Desert.
inSANE & Silent Hills
Another Hollywood director who has tried and failed to make video games is Guillermo del Toro. His first title that never made it was inSANE - a trilogy of AAA horror games.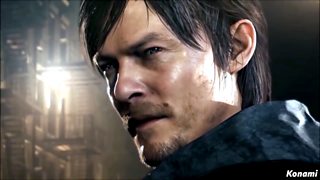 Not much is known about the trilogy other than that del Toro wanted every single action in the game to make players question their own sense of morality and reality. The game was announced in 2010 and was slated for release in 2013. After two years of very little information in 2012 THQ announced that it would not pursue further pre-production on InSANE, returning all IP rights to del Toro.
In 2014 Sony revealed a free downloadable teaser called P.T by 7780s Studios. In the trailer it claimed to be the world's first interactive teaser. Not long after the demo was released a streamer completed the game solving the last puzzle which revealed a hidden trailer, an unannounced Silent Hills game made by Hideo Kojima and Guillermo del Toro, starring Walking Dead's Norman Reedus.
The internet lit up with excitement at the thought of a Silent Hill game by legendary game designer Kojima and the award-winning del Toro. In the first-person playable teaser, which was said not to be an example of the main game, your character wakes up in a suburban house which you must explore - discovering disturbing sights, solving puzzles and being helplessly chased by an absolutely terrifying ghost. The playable teaser has been hailed as one of the scariest games ever made.
Unfortunately for fans, Silent Hills was cancelled by Konami in April 2015 followed by P.T being removed from the PlayStation Store. It is unclear when Kojima officially left Konami but in November 2015 Konami prevented Kojima from attending the Game Awards where his game Metal Gear Solid: Phantom Pain won Best Action/Adventure Game.
Although there is still potential for a Silent Hill game by Konami, sadly it won't be the game by Kojima and del Toro which promised to make players soil themselves with fear.
Scalebound
Last on our list is Xbox One exclusive Scalebound by Platinum Games. Announced at E3 2014 Scalebound was set to be an action RPG set in a large non-linear world called Draconis.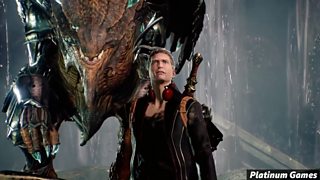 Not much was divulged about the plot of the game as most interest was focused on the gameplay and who can blame them. In the game you mainly play as the headphone wearing Drew who is armed with a sword and bow, loaded with explosive arrows. Drew is also bonded to a giant dragon called Thuban who's quite handy in a big fight.
Whilst Thuban fights independently from the player you can also give him commands through Drew. When faced with bigger enemies, of which there seemed to be many, Drew isn't entirely useless and isable to transform into a humanoid dragon for a limited amount of time.
The game was due for release in 2016 but was delayed until sometime in 2017. Then in May of 2017 Microsoft released a statement announcing the decision to end production of Scalebound. There were rumours at the start of 2020 that it was going to be revived, with the game's director expressing a wish to return to the title but sadly his dreams were dashed by Microsoft's Phil Spencer who confirmed in an interview that it was something they had all moved past.
Although seemingly a harsh dash of reality for gamers hoping for a Scalebound resurrection, these are stern words we can all learn from and not just when it comes to games being cancelled.