Main content
Ten things you might not know about Germany
1. Germany has around 1,200 different types of sausage
Frankfurters, Bratwurst, Munich Weisswurst and hundreds more. Germany's varieties of sausage far outnumber the many kinds of French cheese.
Current estimates suggest that France can now offer around 400 cheeses. This is still outnumbered three to one by German sausages.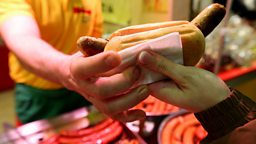 2. German currency has included money made of linen, wood and coal
Emergency money, notgeld, was a widespread phenomenon in Germany during the later years of World War One and its aftermath. Small denomination coins began to disappear because their metal was worth more than their face value. People hoarded them or melted them down.
Paper notes replaced coins but as cities produced their own money, there was also currency made from porcelain, linen, silk, leather, wood, coal, cotton and playing cards.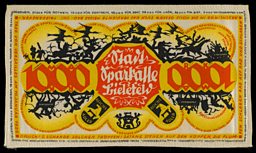 Bielefeld linen notgeld. © Trustees of the British Museum
3. The great German philosopher Immanuel Kant never set foot in what is now Germany
Philosopher Immanuel Kant (1724-1804) was born in Königsberg, on the Baltic coast and throughout his life never travelled more than ten miles from the city and spent his entire career at the university in Albertina.
Königsberg is now known as Kaliningrad and has been part of Russia since the end of WW2.
4. Joseph Goebbels denounced a vase
Joseph Goebbels, Hitler's propaganda minister, led a campaign against art which he defined as degenerate and not fit for the German public.
This included abstract art, cubist art and work by Jewish artists including this vase, created by Grete Marks, and denounced by Goebbels in 1934 in the propaganda newspaper, The Attack.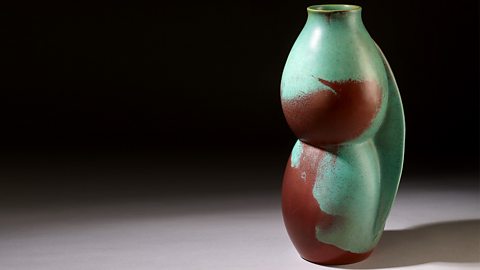 Neil MacGregor talks about a vase that angered Hitler's propaganda minister.
Vase © Estate of Margarete Marks. All Rights Reserved, DACS 2014
5. A German ruler swapped 600 troops for 151 pieces of porcelain
In 1717, Augustus the Strong, the ruler of Saxony, gave the King of Prussia 600 of his best soldiers in exchange for a total of 151 pieces of blue and white Chinese porcelain.
At the time, Chinese porcelain was known as white gold. It was expensive, exotic, translucent, fine glazed and much coveted. There is no record of what the 600 dragoons thought of the deal.
6. The Germans made brilliant handheld technology 400 years ago
The British Museum collection includes an astronomical compendium made by Johann Anton Linden in 1596. It is slightly bigger than a mobile phone and Silke Ackermann, director of Oxford University's Museum of the History of Science, describes it as "the smartphone of its day".
"It has all you would ever want in one box in terms of time-keeping, finding your place on earth, in terms of finding the date. It even has compartments for your drawing instruments. Like people today who have the latest smartphone, it is very much a show-off piece," she says.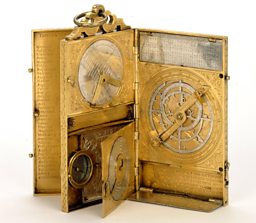 Heilbronn compendium. © Trustees of the British Museum
7. Artist Albrecht Dürer created the first great German logo
Volkswagen, Adidas, Mercedes and Puma are all German companies with globally recognised logos. They follow in the wake of artist Albrecht Dürer (1471–1528) who pioneered the logo with his elegant AD monogram.
As he sold his prints throughout Europe, he hoped that the use of his AD logo on his work would deter the production of copies and fakes. Although there were no copyright laws at the time, Dürer went to court on two occasions to defend his sole use of his monogram.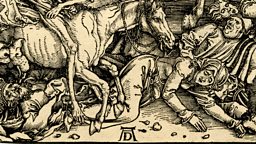 Detail from Dürer's Four Horsemen of the Apocalypse. © Trustees of the British Museum
8. The Oktoberfest beer festival always begins in September
Oktoberfest, the world's biggest beer festival, was a 19th Century creation and began as the public festivities to celebrate the wedding of the Bavarian Crown Prince Ludwig on 12 October, 1810.
The festival survived and moved into September for better weather. An agricultural show was included along with carnival booths which sold beer. This year's festival runs from 20 September to 5 October.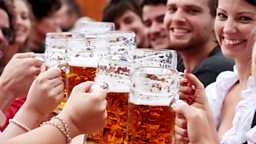 Oktoberfest
9. The great writer Goethe admired British railways
Goethe (1749–1832) investigated the rise of the Industrial Revolution with a mixture of interest and wariness. He was instructed on the workings of the steam engine and kept a model of Stephenson's Rocket on his desk in his study in Weimar.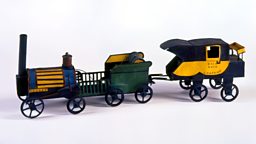 Goethe's model of Stephenson's Rocket. © Klassik Stiftung Weimar, Museen
10. Iron jewellery was once the height of fashion
In 19th Century Prussia, unglamorous iron, the stuff of swords and helmets, was used for jewellery with a new purpose. It became a symbol of patriotism and of resistance to the French invader.
The Prussian royal family encouraged its female citizens to hand in their gold and silver jewellery, as a personal contribution to the war effort. In return they were given iron jewellery and often it was inscribed Gold gab ich für Eisen which means I gave gold for iron.
Features about Germany and the objects in this series