Main content
The ABC of MND
The ABC of MND
In 2017, we ran My Cancer Story, as a legacy to our Community Heroes Awards, with a focus on listeners sharing their stories and experiences of both breast and prostate cancer, helping others in the process.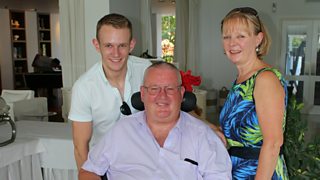 Liam, Anna and Danny Dwyer
For 2018, we're now proud to launch The ABC of MND, explaining what Motor Neurone Disease is, how it affects those with the condition and their families, and providing a wealth of support and information.
***Hear our one hour documentary of highlights from this special series***
The ambassadors for this series are Liam and Anna Dwyer. Liam was diagnosed with MND in 2005 and has been a contributor on the radio station. His wife Anna was a finalist in the Carer category of last year's Community Heroes Awards.
The Week At A Glance
They'll be coverage across the week, including a daily strand at 10am
Monday 9 July
An introduction to Motor Neurone Disease. The ever popular Listening Project returns featuring a moving conversation between Anna Dwyer and our presenter Mark Carter, each sharing their personal experiences of Motor Neurone Disease.
Tuesday 10 July
Fighting for the rights of people with Motor Neurone Disease.
Wednesday 11 July
The role of the carer. Plus our live Drop-In Event 12:00-16:00 at the White Horse Hotel in Dorking.
Thursday 12 July
Support Groups – What do they do?
Friday 13 July
What does the future hold? A look at medical research happening in our area.
MND FACTFILE
With thanks to the Motor Neurone Disease Association
• MND is a fatal, rapidly progressing disease that affects the brain and spinal cord.
• It attacks the nerves that control movement so muscles no longer work. MND does not usually affect the senses such as sight, sound, feeling etc.
• It can leave people locked in a failing body, unable to move, talk and eventually breathe.
• Over 80% of people with MND will have communication difficulties, including for some, a complete loss of voice.
• It affects people from all communities.
• Around 35% of people with MND experience mild cognitive change, in other words, changes in thinking and behaviour. A further 15% of people show signs of frontotemporal dementia which results in more pronounced behavioural change.
• It kills a third of people within a year and more than half within two years of diagnosis.
• A person's lifetime risk of developing MND is around 1 in 300.
• Six people per day are diagnosed with MND in the UK.
• It affects up to 5,000 adults in the UK at any one time.
• It kills six people per day in the UK, this is just under 2,200 per year
• It has no cure.