Main content
BBC Arabic Festival Winners 2015
BBC Arabic Young Journalist Award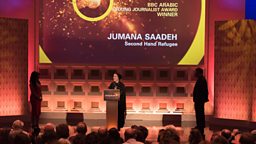 Winner of the 2015 BBC Arabic Young Journalist Award, Jumana Saadeh, accepting her award for her documentary: Second Hand Refugee. Jumana received equipment, training and mentoring for her short documentary, No Kids Land. The film was screened at the opening of the 2017 Festival and aired on BBC Arabic TV.
To learn more about Jumana and her film, click here.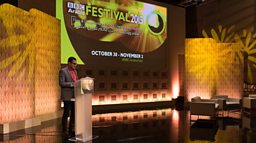 Including: A musical performance, a behind the scenes look at our venue, and a few words from our opening night host, Eddie Izzard.