Main content
Steven Ugoalah
Steven was fired in week four after the Online Video Channel task as part of a shock triple firing. Steven's passion was irritating other candidates and started to annoy Lord Sugar, who said "you're a lost cause in this process". In his taxi home, Steven said, "I think my passion got misunderstood by Lord Sugar as not being able to get along with other people. In reality, I'm very easygoing and I'm very easy to get along with. Unfortunately that didn't come across."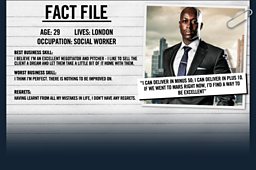 About Steven
Before moving to London, Canadian Steven spent a year travelling the Arctic to do community development social work with remote Inuit communities. He currently runs his own social work consultancy as well as managing a property portfolio.
Steven, who says he regrets since he has learnt from all the mistakes in his life, describes himself as resourceful, dynamic and a great negotiator, but says he often becomes frustrated when people don't have the same high standards as him. He thinks he is perfect, and therefore cannot improve himself further, and approaches his clients by 'selling them a dream' that they can take home with them.