Main content
RoBotticelli: the mechanical marvel creating extraordinary works of art
8 September 2015
Unless you're a crayon toting pre-schooler, drawing a human face can be a daunting prospect. But one artist never seems to struggle for artistic inspiration. Known as Paul, this prolific portrait artist has had his work exhibited the world over and all before his sixth birthday. He has one arm and 19 brothers, also called Paul. Have you guessed what it is yet? That's right Paul's a robot and thanks to the organisers of The Big Draw you can have your portrait drawn by the dextrous droid himself at the forthcoming launch of the world's biggest drawing festival.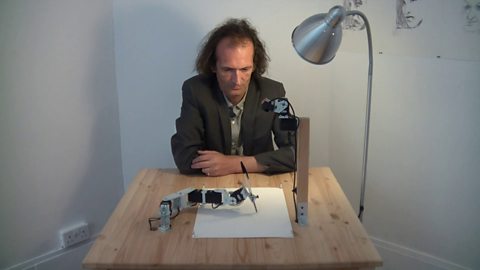 Artist and scientist Patrick Tresset sits for a portrait drawn by his creation, Paul.
Paul's creator is Patrick Tresset an artist and scientist who has spent six years building a set of robotic Renoirs whose drawings are remarkably accurate portraits of their sitters.
I wanted to accentuate the relationship between the sitter and the robot

Patrick Tresset
With a camera for an eye, a robotic arm and an old school desk for a body, Paul the robot is actually a performer in a theatrical installation where passers-by can stop and be drawn or simply watch the sketching cyborg at work. "I wanted to accentuate the relationship between the sitter and the robot" says Tresset.
Biro in bionic hand, it can take as little as twenty minutes for Paul to produce the works themselves and Patrick says people are very taken with him especially when he signs his work of art with his very own automaton autograph.
The robot was born in a university computing lab in Goldsmiths, University of London, as part of a Phd research project but the beginnings of this extraordinary accomplishment can be traced back even further.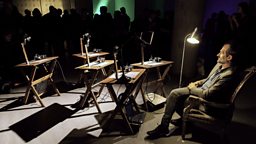 Patrick poses for several 'Pauls'
As a kid Patrick loved nothing more than putting pen to paper but he also harboured a desire to become an inventor. "I was always aware of having these two sides: the artistic and the scientific." It was his artistic side that initially won the battle when in his early twenties he decided to move to London and try to make a living full-time professional artist.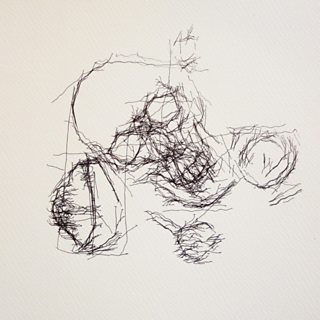 Paul's still life drawing
Unfortunately, a brush with ill health left Patrick struggling to find the artistic inspiration he needed and he began to look upon his own work with a growing sense of dissatisfaction. "I lost my passion and energy for the art I was making", he says.
Having invested most of his adult life into trying to make a living from his art, Patrick was faced with a tough decision. Continue to battle with his career as an artist or fall back on a former love of his: science. He decided to stop making works of art and turn his attention instead to robotics
Tresset had long been interested in the futuristic notion of robots living side by side with humans and how they might interact with one another. Bringing his knowledge of art to this prospect he became increasingly fascinated with the idea of producing a robot who could mimic the very human act of drawing.
So when he was accepted into Goldsmiths, University of London, as a mature student it was not the fine arts department he was to report to but the department of computing.
Over the next few years Patrick became involved in a project he co-directed with Frederic Fol Leymarie which attempted to create a robot that could draw a human face based upon Patrick's own drawing techniques. "I programmed the robot to draw like I do. I tend to use a lot of lines so Paul does too." In some sense Patrick was designing a robotic version of his lost artistic self.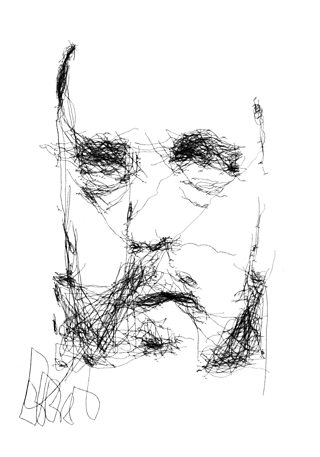 James sketched by Paul I.a, 2011
I programmed the robot to draw like I do. I tend to use a lot of lines so Paul does too.
"Most robots are industrial and designed with a lot of money and teams and teams of people. It has been difficult but we wanted to build something reliable that would work all the time."
He first exhibited Paul in 2010. Since then he and his colleagues have created a total of twenty robots: all called Paul with a number or sometimes a letter after to distinguish them from one another. Patrick has become a world expert on robotics and art, invited to exhibit his work across the world and to collaborate with a team in Germany who are trying to create a painting robot.
But his research is by no means at an end. In the future Patrick hopes to create a robot which after consuming human art and culture will produce its own distinct artistic style. In short, a machine capable of deciding what kind of artist it wants to be.
The history of drawing is as old as the history of humankind but with the birth of Paul and his brothers in bionic arms it could be that right now we are entering a whole new chapter.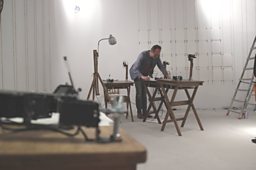 Patrick surrounded by Pauls
To be a sitter for one or more of the 'Paul' robots created by Patrick Tresset, join him for a workshop at The Big Draw launch event at the Weston Library, Bodleian Libraries Oxford on 19th September 2015.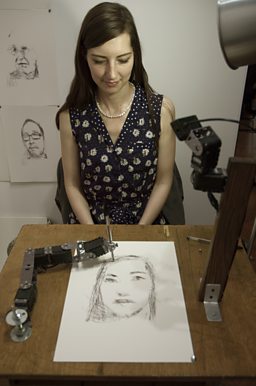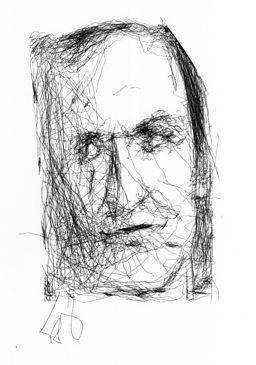 Patrick's portrait drawn by Paul the robot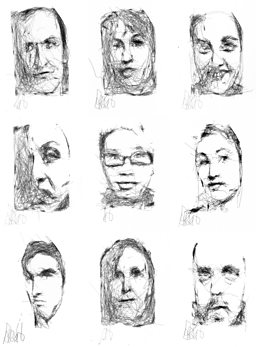 Sketches by Paul I, 2011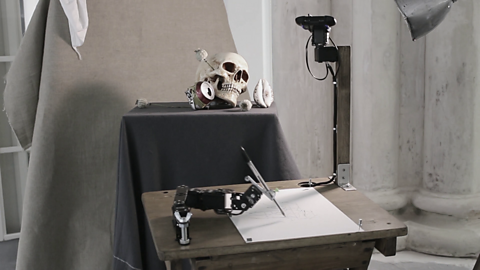 "La Vanité" is a theatrical installation - this film shows Paul-IX at work