Main content
Five things we learned about Donald Glover
You'd think it would be enough to be currently sitting at number 1 in the US Billboard charts with his controversial 'This Is America' song and video (under his rap/musician pseudonym Childish Gambino) but Donald Glover's list of credentials reads like an A-list dream with an acting portfolio that includes parts in hit TV shows, the recent Spiderman movie, and the role of Captain Lando Calrissian in the new Star Wars film Solo: A Star Wars story.
A gifted DJ, stand up comic and You Tube sensation (with his comedy team Derrick Comedy) he's also managed to rack up a stellar five album music career which has seen him sell over a million records, whilst in the process becoming a Hollywood icon. To cap it all, his US Emmy award winning TV series Atlanta (which he produced, wrote, occasionally directs, and stars in) has just started on BBC2, a darkly surreal comedy-drama that focuses on the rap scene in Atlanta and the travails of manager Earnest Earn Marks - played by Glover - and his rapper cousin Paper Boi.
Here are five interesting things we learned about him from Mark Coles' recent Radio 4 Profile...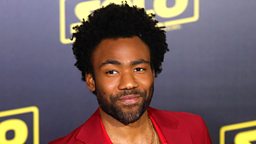 1. The name 'Childish Gambino' was created by a computer program
Glover's catchy pseudonym - which he uses for all his rap and music projects - doesn't have any significant meaning as it came about by putting his name into The Wu Tang Clan's online name generator. Despite this it suggested something to him and it stuck " the name kinda sounds like a journey, which I like"
2. He grew up as a Jehovah's witness
For a man so immersed in contemporary culture Glover's early life was virtually starved of it as his Jehovah's Witness parents tried to keep him from the temptations of Satan.
Without even a TV to reference, characters like Bart Simpson were only heard about at school. "My parents were like, Bart Simpson's a bad influence….the Simpsons are no go.."
3. A Lando action figure from Star Wars was his first toy
Glover's father may have been a Jehovah's witness but he also loved the fact that the character of Lando in Star Wars was a black cultural icon, so allowed his son a toy action figure of the rogue captain and inter-galactic smuggler.
Little did he know that many years later his son would play the role of Lando in a future episode of the Star Wars movie franchise.
4. He once played Peter Pan in a subversive comedy sketch
Dan Eckman was a member of the comedy group The Derrick Comedy alongside Glover, and reminisces "I specifically remember a sketch called The Black Peter Pan, where he's playing Peter Pan and he comes back to the Darling family… they're surprised that he's black".
In the actual sketch the family are shocked that he's not white and has an afro, and Glover (as Peter Pan) cryptically replies "Peter Pan is whatever you want him to be".
5. He was raised in Stone Mountain, a suburb of Atlanta historically linked with the Ku Klux Klan
His parents moved to Atlanta when he was young, attracted by the city's association with the civil rights movement, but ironically ended up choosing to settle in Stone Mountain where there were better schools - a predominantly white suburb linked heavily with Ku Klux Klan activity.
This may have lead to some feelings of alienation, especially with his parents also being Jehovah's witnesses. Whether this influenced him later or not, Glover's work took a more political turn after he came out of college both in his comedy and music, focusing more on racism in America.
The journalist Tad Friend says he was also affected by observing how his younger brother Stephen fared, who was darker skinned and as such more prone to stereotyping as "a guy you might be afraid of if you're white".
The theme runs through much of his later work, blatantly shown in the hard-hitting video to 'This Is America", and more subtly portrayed through the comic filter applied in Atlanta, which focuses on the black experience of living in America.
More from Radio 4's Profile
Mark Coles profiles Childish Gambino, the creator of viral video hit This is America.

Mark Coles profiles Gina Haspel, Donald Trump's controversial choice for CIA director.

Mark Coles profiles Sajid Javid, the first British Asian to be made home secretary.