Main content
Families, Schools & Learning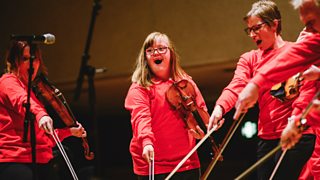 BBC National Orchestra and Chorus of Wales take music beyond the confines of the concert hall into schools, workplaces and communities. It's learning work aims to offer people of all ages, backgrounds and abilities unique opportunities to develop musical skills. The programme is delivered through a series of activities involving groups of musicians as well as the whole Orchestra, with projects designed to offer creative opportunities to meet and work alongside professional musicians.
Past Projects
BBC NOW has presented a series of ground-breaking learning projects. Highlights include:
A DVD resource in 2011, designed to aid the teaching of the National Curriculum to pupils with special educational needs, in schools across Wales.
Six concerts in 2012/13, to reach Deaf, deafened and hard of hearing adults and children. The project used British Sign Language interpretation, speech-to-text relay and vibrating sound boxes to increase accessibility.
A central role in the 2014 launch of BBC Music's Ten Pieces. Encouraging children to get creative with classical music, it culminated in two BBC Proms at the Royal Albert Hall and BBC NOW appeared in a Ten Pieces film which was received by around 8,000 schools.
In October 2015, BBC NOW took its learning work overseas for the first time as part of an ambitious three-week tour of South America. This included a ground-breaking community residency to celebrate the 150th anniversary of Y Wladfa, the Welsh settlement in Patagonia, culminating with two gala concerts in a specially converted wool warehouse.
As part of a tour to North Wales in November 2016, BBC NOW performed a concert to 55 schools and special schools from the local area. The Orchestra also delivered a bespoke workshop on Anglesey, to a club for families with an individual who has a disability.
In March 2017, BBC NOW in partnership with British Council Wales, ERW (Education through Regional Working) and University of Wales Trinity Saint David, launched a project called Listening to Language/ Cerdd Iaith, which aimed to encourage language learning using music as a resource. Musicians from the orchestra alongside language specialists worked with teachers to develop creative approaches to learning Welsh, Spanish and English.
In July 2017, BBC NOW performed the first Relaxed Prom at the Royal Albert Hall, in collaboration with the BBC Proms and the Royal Albert Hall Education & Outreach team.