Main content
Proms at Home
Below you will find weekly activities for you and your family. Each includes a specially selected Prom for you to enjoy with a linked creative activity that can be completed at home without any special materials or preparation! A perfect, simple and easy way to keep listening, enjoying and creating music at this time.
Send us your creative responses through our uploader and you never know, you could be featured here on the Proms website!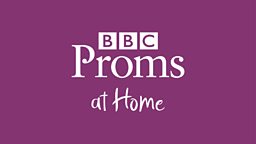 WEEK THREE
Create your own picture and poem with the Literacy Pirates, inspired by Hannah Kendall's The Spark Catchers and Lemn Sissay's Colour Blind.
WEEK TWO
Choreograph a dance with Mousetrap Theatre Projects' Vicki Hawkins, inspired by Leonard Bernstein's Imaginary Coney Island from On the Town.
WEEK ONE
Write your own one-word song with Jessie Maryon Davies, inspired by Gerald Barry's Canada.