Main content
Riz Ahmed: Eight things we learned when he spoke to Louis Theroux
The seventh guest on the second series of Grounded with Louis Theroux is Riz Ahmed. Riz has been a successful actor for 15 years, appearing in projects like Dead Set, Four Lions, Rogue One and The Night Of. The latter won him a Best Actor Emmy, making him the first Asian man to win the award. He's also a successful rapper, with two critically acclaimed albums. Riz talks to Louis about his acting career, how he nearly quit Oxford University and the tragic way Covid-19 has touched his family.
Here are eight things we learned…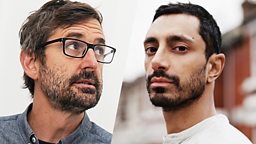 1. He recently married
Riz doesn't often talk about his personal life, but he casually mentions to Louis that he married fairly recently. "I think that's the first time I've mentioned it in an interview, so congratulations on your incredibly exciting scoop," he jokes. He says he doesn't talk about family life much because, "I don't feel it is generally that relevant," but he stops short of calling himself a 'private person', "because if I was a private person, I wouldn't be doing a podcast."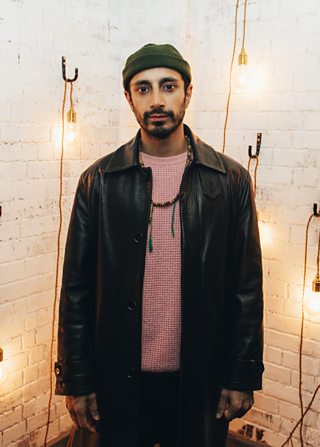 2. He's lost two family members to Covid
Riz says one of the reasons he started talking about his personal life a little more is to share the fact that two of his relatives died of coronavirus. An uncle and an aunt of his died during the first wave. "You don't think it will necessarily affect your family directly and then all of a sudden it does," he says. "It's very strange." He says it's been difficult to process the grief without being able to be with his family, but says he thinks it's important to talk about it. "I felt like a lot of people weren't taking Covid seriously, so I felt like talking about it and saying, 'Hey, this is a real thing.'"
3. He nearly quit Oxford University
Riz went to Oxford University but says he nearly left without completing his degree, because he didn't feel he belonged. "Oxford was like training, I think," he says, "So much of navigating life in Britain, in most rooms where decisions are made, is about being able to be conversant in upper-middle class English. I don't mean just in terms of how you talk, but being comfortable in those spaces." As a child of immigrants who grew up in Wembley, Riz said he did not feel comfortable in those spaces. "I still sometimes find myself confronted with that discomfort, that sense of imposter syndrome if you're not to the manor born. In a way it prepared me for the film industry… which is rife with the same kind of classism." Ultimately, he says he loved his Oxford experience. "The place you don't feel like you belong maybe is where you belong. It's where you should be. Where you can contribute something new."
4. Rapping was his first love
As an adult, Riz has always been a musician as well as an actor. He says it was music that caught him first. He started rapping when he was a teenager. He says he was a "restless kid with a lot of energy. I think I just enjoyed the hyperactive, intensive energy to rapping and MCing… I don't think I ever thought I could do either [rapping or acting] professionally. Even after I'd been doing it professionally for a while."
5. He originally said no to Four Lions
The project that launched Riz's film career was Four Lions, Chris Morris's comedy about four hapless would-be terrorists. Initially, he turned the film down. Morris approached him after seeing the video for Riz's first single, a satirical rap called Post 9/11 Blues. "I didn't know his work or what a legend he was," says Riz. The pair met up over several years, discussing ideas, but when Chris asked him to play a lead role, "I said, 'No thank you, I don't want to do it'. I was eager to play characters that weren't shackled to the post-9/11 narrative... [I said], 'I don't want to play a terrorist, but I love you, man.'" He was ultimately persuaded and the film became a big hit.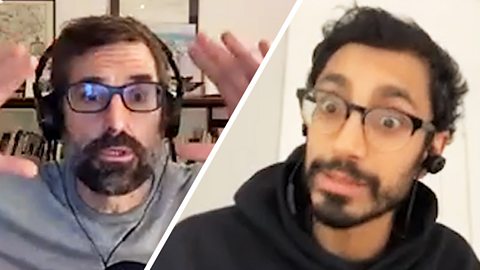 Clip from Grounded with Louis Theroux.
6. He likes films that rearrange your mental furniture
Riz's film career has tended to be in unusual indie films. He's made a few big studio pictures – Jason Bourne, Rogue One, Venom – but he's mostly gravitated toward smaller films. "I'm just interested in films that kind of rearrange your mental furniture a little bit," he says. "I think Four Lions does that. I think Nightcrawler does that... And hopefully, you know, The Night Of (the TV show that won him an Emmy) as well… Bait you into your preconceptions and just flip things on you a little bit."
I grew up code-switching a lot between family situation, schooling situation, friend situation… So, acting came naturally to me in that sense.

Riz Ahmed
7. He thinks his upbringing made him a good actor
Riz says he thinks he's able to switch between many different roles because of how he grew up. "I grew up code-switching a lot between family situation, schooling situation, friend situation… Wearing school uniform and speaking the Queen's English at school, then changing into Reebok Classics and speaking with your rude boy mates… So, acting came naturally to me in that sense, shape-shifting or code-switching. But that always involved leaving part of myself at the door." He thinks he's improving as an actor now because he doesn't want to have separate parts of himself. "Not to take off the shalwar kameez to put on the uniform and take off the uniform to put on the Reeboks. Bring the whole wardrobe. Bring all of myself to work."
8. He learned drumming and sign language for his new film
In Sound of Metal, Riz plays a drummer who loses his hearing. He says he had to learn to drum and communicate in sign language for the role. "[Director Darius Marder] said, 'Whoever's going to play this role is going to really learn the drums. When you're playing drums on screen, that's going to be real. I'm not faking it. And whoever plays this role is going to learn sign language.'… I just got so excited by that. I was looking for something to sink my teeth into, that would overwhelm me." His performance in the film has made him one of the frontrunners for this year's Best Actor Oscar.
More from Grounded with Louis Theroux