Main content
Welcome to the BBC Audio Drama Awards
Celebrating the best of audio drama in the UK
About the awards
The BBC Audio Drama Awards were established in 2012 to pay tribute to the cultural importance of audio drama, on air and online, and are awarded in recognition of the actors, writers, producers, sound designers and others who work in the genre.
Since the awards were established the world of audio fiction has expanded with the advent of podcasting and many different companies and individuals have won.
As well as the Best Podcast/Online Award which has been among the awards from the start, the Best European Drama was introduced in 2019 to acknowledge the role of other European public service broadcasters in nurturing this distinctive genre.
The awards are judged by panels of experts from across the industry and have included Arthur Darvill, Ruth Jones, Paterson Joseph, Nina Wadia and Dame Harriet Walter.
The 2012 and 2013 awards were presented by David Tennant, then from 2014 to 2017 by Sir Lenny Henry and in 2018 and 2019 by Tracy Ann Oberman.
Previous winners include Marcus Brigstocke, Monica Dolan, Michelle Fairley, John Finnemore, Neil Gaiman, Sir John Hurt, Vicky McClure, Sir Ian McKellen, Eve Myles, Alfred Molina, Dame Sian Phillips, Danny Sapani, Andrew Scott, David Threlfall, June Whitfield and Susan Wokoma. Awards for Outstanding Achievement have been won by such productions as Midnight's Children, Home Front and The Archers.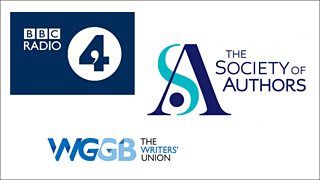 Imison and Tinniswood Awards
The BBC is delighted to join forces each year with the Society of Authors and Writers' Guild of Great Britain to announce the winners of each year's Imison Award for best original radio drama by a writer new to radio and the Tinniswood Award for best original radio drama script.
These awards are made in memory of Richard Imison, who nurtured many new writers at the outset of their careers in his long career as a BBC producer, and the great radio drama and comedy writer Peter Tinniswood.
Drama and Storytelling on Radio 4
Find details of Drama and Literature programmes to listen to now on Radio 4.