Main content
4: La sierra
The mountains
Sofía takes Charlie and Quique to the mountains just outside Madrid and they meet Sofía's friend, Guillermo, a mountaineer. Teresa tells a story about two rival mountains - El Teide on Tenerife and Popocatépetl in Mexico - and Uncle Manu sings about the seasons. Key vocabulary includes the weather and seasons and key grammar points include making negative sentences.
Dual transcript / translation for Clips 13 - 16 (pdf) with links to the online audio clips
Clip 13: Cercedilla
Cercedilla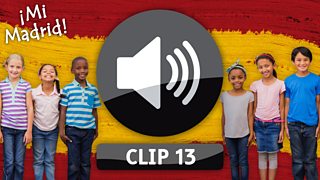 Quique, Charlie and Sofía take a train to Cercedilla, a town in the mountains just outside Madrid. There they meet Guillermo, a mountaineer. Charlie finds out that it isn't always sunny in Spain.
Clip duration: 03 52
Clip 14: Cuento - Cartas de las montañas
Story - Letters from the mountains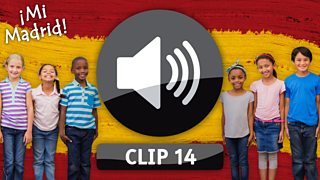 Verónica loves looking at maps. Then one day she receives letters from two mountains: El Teide on Tenerife in the Canary Islands, and Popocatépetl in Central Mexico, who tell her their stories.
Clip duration: 04 21
Themes, Vocab and Grammar
| Themes and vocabulary | Grammar and pronunciation |
| --- | --- |
| seasons | frequency phrases |
| weather - eg hace frío (it's cold) and hace calor (it's hot) | negatives |
| points of the compass - norte (north), este (east), sur (south), oeste (west) | pronunciation of ll (llueve / llamas) |
| - | Spanish climate |
Clip 15: En la cafetería
In the café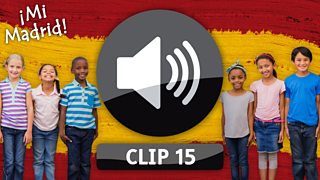 Quique, Sofía and Charlie are sheltering from the rain in a café: the perfect opportunity for Charlie to get to grips with some Spanish phrases to describe the weather. Charlie hears the phrase se puede for the first time.
Clip duration: 03 26
Key vocabulary 1
| Spanish | English |
| --- | --- |
| Las estaciones | The seasons |
| primavera (f) | Spring |
| verano (m) | Summer |
| otoño (m) | Autumn |
| invierno (m) | Winter |
| siempre | always |
| normalmente | normally |
Clip 16: Canción - ¡Qué bonita es la Tierra!
Song - How pretty Earth is!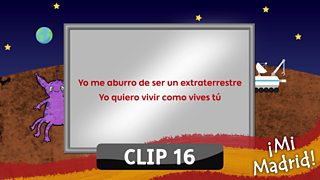 A Martian observes the Earth from afar and says how lucky Earthlings are to have the changing seasons, while he sits shivering, with freezing cold feet, on Mars.
Clip duration: 03 18
Key vocabulary 2
| Spanish | English |
| --- | --- |
| alpinista (m/f) | mountain climber |
| bosque (m) | wood, forest |
| esquí (m) / esquiar | skiing / to ski |
| está | it is (located) |
| fuerte | strong |
| hacer alpinismo | to go mountain climbing |
| montaña (f) / montañero (m) | mountain / mountaineer |