Main content
GBBO's Candice: Why aren't more young people choosing apprenticeships?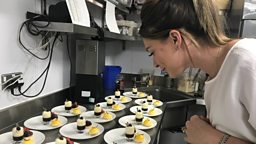 "If you don't do something you enjoy or you're happy with, than working for 35 to 40 years is kind of useless."
That's the view of Sara, 14, a pupil at Denbigh High school. Along with her classmate Imaan, she tried out a hospitality apprenticeship at Sopwell House Hotel in St Albans.
The two students were challenged to spend a day there by former Great British Bake Off winner Candice Brown, who used to be a secondary school teacher and now runs a pub with her brother.
In a special report for BBC Radio 5 Live, Candice said she was concerned that apprenticeships "are kind of frowned upon", and she wanted to understand why more young people aren't taking them up.
Government statistics show the numbers of people starting hospitality apprenticeships in England have almost halved since 2014. Hospitality is already facing a skills shortage.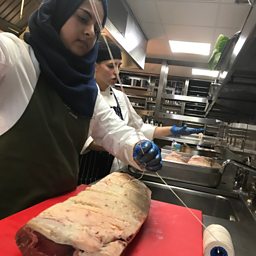 Year 10 pupils Imaan and Sara were put to work in the kitchens at the 4* country house hotel.
"We're ready to get chef-y!" said Imaan, as they put on their white aprons.
Sara impressed head chef tournant Aimee Reddick with how quickly she picked up her tasks which included tying beef and making a peppercorn sauce.
"Sara just sees something once and she gets it," said Amy. "We might keep her!"
Despite enjoying the day and seeing the benefits of on-the-job learning, Sara said she understood why some students felt the pressure to pursue a more academic route.
"I know that most families – especially in an Asian household – they expect you to be on the academic side. They care more about the money or the income rather than what you enjoy," she said.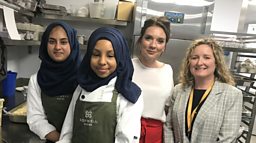 Tara Armstrong is a teacher and apprenticeship champion at Denbigh High School. She agreed that selling apprenticeships to parents was "really difficult".
"We do have a very academic outlook," she said. "A lot of our parents expect their children to go onto do medicine or law.
"We do need to do more work to show parents that this is a worthwhile pathway."
Candice asked Tara if she thought there was an idea that apprenticeships were "sometimes seen as what the thick kids do".
"That is the big myth that we need to bust," Tara said.
"Some of these great apprenticeships - you still need GCSEs.
"It's not like, if you don't pass your GCSEs, you get to do apprenticeships."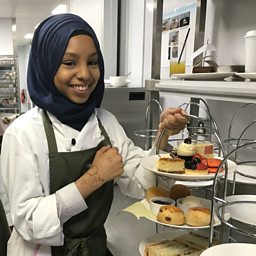 Imaan, 15, spent her trial in the pastry kitchen, making intricate cakes for afternoon tea.
"It's been fun. It's just interesting seeing what goes on behind big kitchens in hotels and restaurants," she said.
"I would consider doing an apprenticeship in hospitality. I think I'd enjoy it – especially doing desserts – not actual foods!"
Candice said she was concerned that pupils were missing out on opportunities to try out careers because schools were losing their work experience programmes.
"They don't do it because it has no benefit to them - they're so focused on the grades," she said.
"Students are making the decision whether to leave school or whether to do A-levels having actually never gone into work experience."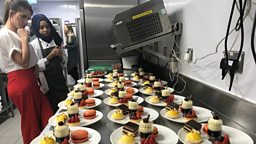 Sam Coulstock is from Umbrella Training – the apprenticeship provider which works with Sopwell House Hotel to develop staff.
He said they had an uphill struggle to counteract the "poor perceptions" about apprenticeships.
"We have got a lot of work to do to tell the positive stories of how you can move from novice up to expert level with the right employer and the right training support," he said.
"There is a lot of good information, there are some great case studies; it's just getting that information in front of the right people at the right time."
To put herself in a young person's shoes, Candice tried to find out information on apprenticeships on the internet.
She said she was "shocked" by the lack of data.
"For students at school who are not sure what they want to do at a really key point in their lives – there's just not enough information," she said.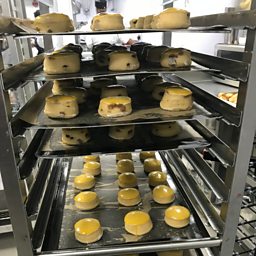 In a statement, Apprenticeships and Skills Minister Anne Milton said the government had overhauled the apprenticeships system and how it was funded:
"There are a range of high-quality and exciting apprenticeship opportunities available in the hospitality sector – everything from baking, hospitality manager or commis chef.
"We are also working with employers including Pizza Express, Greene King and Marriott Hotels to help more people get on the path to great jobs and careers."
Candice said she thought government, schools and employers needed to come together more to fix the problems.
"It's got to come from all sides," she said.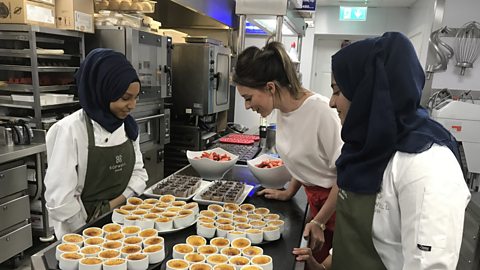 The former Bake Off winner investigates why more young people aren't taking them up.
See more Special Reports by BBC Radio 5 Live