Main content
Two Nigerian Priests on a mission to serve Scotland
When Father James Anyaegbu was young he would attend church in Aba wish that one day he could be a priest. Similarly when Father Maximilian Nwosu was in primary school he passed the entrance exam for the minors seminary to the delight of his mother.
This was the start of a journey into priesthood for these two men, which would ultimately see them travelling over four thousand miles away from their homes in Nigeria, to serve the Parishes of the Scottish Highlands . It is a story of dedication depicted in the documentary Our Fathers.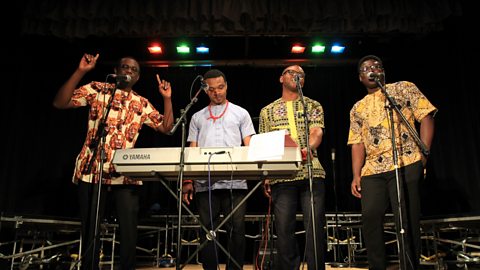 The four priests perform traditional Nigerian music for their Highland parishioners.
"When the Bishop calls you have to say, 'yes.'" Father Max recalls. So there was no doubt that he would be accompanying Father James on this mission to Scotland.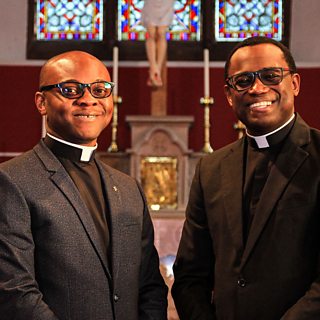 "I got the phone call that the Bishop wanted to see me, have I done anything wrong I asked him? And then he told me I was being sent on a mission to Scotland! Wow! It was a surprise and it was the very first time I found Scotland on Google."
In this touching and humorous documentary, we see how these two Nigerian Catholic priests navigate their way not only across these sparsely populated Highland parishes, but also across the racial and cultural divides which exist between two very different Continents while focusing on the commonalities of faith and kinship which transcend these differences.
In Aba, Nigeria, a city of more than 3 million people, these priests are used to saying mass for a congregation of 5000 or more. There the churches are more akin to stadiums.
In contrast the Scottish town of Beauly hosts no more than 70 or 80 people to a service but this allowed the priests to get to know their congregation and build friendships and connections across the Parishes.
These connections extend not only between their Parishioners but also seventy miles away with two other Nigerian priests, Father Kingsley and Father Peter who have also been drafted to Scotland to support these communities.
Father James recalls, "When we learned Father Peter and Father Kingsley were coming to join us we felt glorious, we felt so happy." The comradeship these men share is clear from the outset through their infectious sense of fun and laughter, but also through there love of music.
Together these four priests not only help provide a spiritual service to the Highland communities, but they also share their culture through traditional performance and song.
Father Max reflects that community is at the heart of Nigerian society, "In Scotland the culture is so different, people love to stay on their own, someone can stay in the house from one day to the next without friends or anyone coming to see him or her, this would make a typical Nigerian feel so lonely."
This explains why for many of the isolated parishioners of the Highlands these Priests play such a vital role in people's lives. One parishioner recognises, "Generally young priests are lucky to be in a place for four to six years, that's the average, so time is ticking, but we're lucky to have them."
With the Highlands facing a shortage of local priests, two Nigerian missionaries are sent to Inverness-shire to make a new home for themselves in Beauly.
Latest features from BBC Scotland