Main content
EIF Conversations: John Tiffany
10 August 2017
Our final conversation in this series is with acclaimed theatre director John Tiffany. He memorably brought Iraq War drama Black Watch to audiences all over the world, and last year he co-created the stage version of Harry Potter and the Cursed Child. Tiffany brings a new play to this year's EIF, Drainage Alley. UK viewers can also watch the conversation on BBC iPlayer.
About John Tiffany
Huddersfield-born John Tiffany studied Theatre and Classics (switching from an initial foray into Biology) at the University of Glasgow. He was Literary Director for Edinburgh's Traverse Theatre from 1997 until 2001.
I thought Black Watch would be the ruin of the National Theatre

John Tiffany
Tiffany then began a long association with Vicky Featherstone, who was Artistic Director at new writing company Paines Plough until 2004, when she took charge of the new National Theatre of Scotland. Featherstone hired Tiffany as Associate Director of New Work at the NTS.
The NTS contribution to the 2006 Edinburgh Fringe would put the company unexpectedly on the map in a major way. Black Watch was knitted together by writer Gregory Burke and Tiffany from interviews conducted with ex-squaddies from the famed Black Watch regiment who had returned home to Fife after the Iraq War.
It was performed in a disused army drill hall with a cast of ten dynamic young actors. In one of many five star reviews, the Sunday Telegraph said, "the actors burn with restless energy and John Tiffany's production is robustly inventive . . . Completely brilliant."
It took two years before a suitable space was found to perform Black Watch in London, during which time it toured the world from New York to Sydney. In 2009, following its run at the Barbican, the production scooped four Olivier Awards including Best Director for Tiffany.
Also for the NTS, Tiffany brought Alan Cumming back to a Scottish stage for the first time in years in a gospel-tinged version of The Bacchae, and directed him again in 2012 for a solo version of Macbeth set in a mental hospital.
In 2011, an in-demand Tiffany was recruited by the James Bond movies producer Barbara Brocolli to direct the musical Once on Broadway, winning a Tony Award for Best Direction of a Musical.
In 2013, Tiffany took a production of Tennessee Williams' The Glass Menagerie to Broadway - he subsequently revived it for the Edinburgh International Festival in 2016.
Also in 2016, Tiffany directed the stage play Harry Potter and the Cursed Child in the West End. The play, which transfers to Broadway in September, explores the previously untold story of Harry Potter's early years as an orphan and outcast, based on an original story by JK Rowling, Tiffany and script writer Jack Thorne. At the 2017 Olivier Awards it won in nine categories, including Best Director.
John Tiffany and New and Now
John Tiffany directs Drainage Alley at this year's EIF, as part of New and Now: International Plays from the Royal Court Theatre.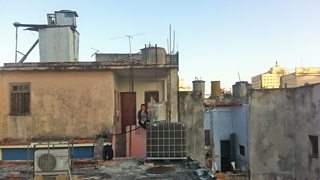 Photograph by Laura Liz Gil Echenique
It explores Cuba poised on the cusp of opening up to the world through the story of a quiet alleyway in Havana.
Watch highlights from Drainage Alley here, and the other plays in the Royal Court New and Now series here.
What is New and Now?
Over the past 20 years, the Royal Court's International Playwrights' Programme has encouraged emerging writers in all parts of the world to address subjects that they felt were urgent in their societies. In more than 70 countries and over 40 languages, writers have produced provocative new plays that respond to our changing world.
New and Now is part of the International Festival and British Council season Spirit of '47.