Main content
Nine things we learned from Alan Carr's Desert Island Discs
Comedian Alan Carr has filled arenas with his stand-up, and hosted acclaimed long-running TV shows: he won the BAFTA for Best Entertainment Performance in 2013 for his Channel 4 series Alan Carr: Chatty Man. He describes himself as "balding, myopic, with a dodgy hip, dodgier teeth and a voice that could strip varnish", but he readily admits that the things he hates about himself have become his trademark.
Here's what we learned from his Desert Island Discs: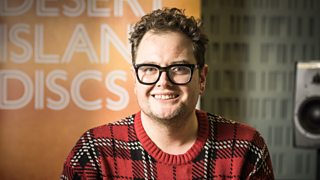 1. He was shocked when he saw himself on screen for the first time
At the age of 12, Alan saw himself on a video recording of a school play: "Any time I relaxed, my hand was on my hip like a tea-pot, my voice soared like a seagull with its wing trapped somewhere. And I'm smiling now, but my, it was like a punch in the stomach."
2. Football was the family business – but Alan had other teenage passions
Alan's father was a professional footballer, who became manager of Northampton Town in the late 1980s, but Alan much preferred bird-watching to the beautiful game: "I got a pair of binoculars for my 13th birthday! I went to Pitsford reservoir because there were some Canada Geese. My dad was great, really, there's not many people who would take their son to the Farne Islands so that I could see the puffins."
3. His first attempt at stand-up was coursework
Alan's first show as a comedian was part of his degree course in theatre studies. "There was a stand-up comedy module and I put my name down for it, and you had to do a 10-minute stand-up set and perform it in a pub, in front of regulars, while your tutor stood at the back and marked you." He can still recall how he felt on the night: "Terrified! Couldn't eat, nerves, people being sick. Horrible, horrible. But the buzz was something else!"
4. His heroes died on consecutive days
Alan's heroes are Victoria Wood and Prince – who died on 20 and 21 April 2016 respectively. "I'd never met either of them," Alan says, "and I was just in bits." He had a poster of Prince on his bedroom wall as a teenager, and remembers his dad asking "who's that man wearing stilettos?" Alan chooses If I Was Your Girlfriend, from Prince's 1987 album Sign o' the Times, as the third of his eight tracks for the island.
5. Working in a call-centre gave him a springboard into comedy
"I only did stand-up because I was in a call centre for a bank," Alan recalls. "My psoriasis had come back, I was sitting there with this headset on and I looked like the Singing Detective, I was flaking everywhere! And I was telling people about the call centre… I was telling people and they were laughing about it. And then my friend said there was a local pub, the Buzz up in Chorlton, and they put me down [for a 10-minute set] and I got a standing ovation! So I was doing the most boring job in the day and having these flights of fancy at night. It was really nice."
6. The Manchester comedy scene in 2000 launched new stand-up superstars
"For the first time in my life, I was in the right place at the right time," Alan says. "The Manchester Comedy Store opened, we were all starting out. One time I was in a car: me, Jason Manford, John Bishop, just going across Snake Pass to Sheffield, y'know, 10 people in the audience. Peter Kay was above everyone there, as he always is. Johnny Vegas, Caroline Aherne, Steve Coogan would turn up and do bits. There was an energy. It was lovely. It's so lovely seeing everyone doing well."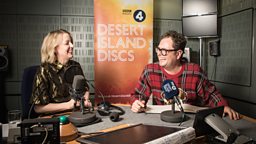 7. His wedding day was the best day of his life – and Adele insisted on picking up the bill
Adele organised Alan's wedding to his long-term partner Paul Drayton in January this year: "She got ordained as well, and married us in her back garden which was really lovely. The best day of my life! She organised it all and paid for it. And I said to her 'How can I repay you?' and she just said 'No! My treat!'". Alan selects Adele's song Melt My Heart to Stone, from her debut album 19, as his sixth track for the island.
8. He hates the fact that camp gets a bad name
"It's a wonderful British tradition, camp." Alan says, "Telly is camp. Strictly is camp. X Factor is camp. It's camp! And I just don't know why it gets a bad rep. I don't want to be this camp… but I'm 42 now, I can't be bothered to change, and I'm stuck with this voice."
9. Looking back on his success so far is like 'an out-of-body experience'
"I do pinch myself… do I deserve it? I don't know if I do," Alan says. "I do have these moments like that, I think that's a self-esteem thing. There are funnier people out there, there are better interviewers. I mean, that's healthy because you just become a monster otherwise. You've got to have that 'Why me? Why have I been given this?' and I never take it for granted."

More from Desert Island Discs