Main content
My culture picks: Caitlin Moran
27 June 2018
Caitlin Moran is an award-winning journalist and bestselling author, whose 2014 debut novel How To Build A Girl is being made into a feature film. As its sequel How To Be Famous hits bookshelves, she shares her picks of the book, music and TV show that inspire her.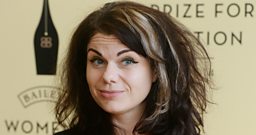 Book: Kill 'Em All by John Niven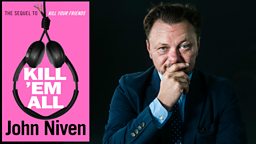 Kill 'Em All is the upcoming sequel to John Niven's 2008 debut novel Kill Your Friends.
Moran says: "I've been a fan of John Niven since he wrote Kill Your Friends, which for those who haven't read it is basically American Psycho set in the British music industry during the height of Britpop. It's vicious, it's funny and it's awful, and oddly truthful; it sort of explains to you what the entertainment industry's like.
"And so now twenty years later he's come back to the main character Stelfox. The plot of the book is basically someone who's not actually Michael Jackson but might as well be called 'Jichael Mackson', is becoming very problematic for the reasons that Michael Jackson became problematic. The way that the music industry decides to deal with him in order to monetize his future back catalogue is as dirty and horrible and awful and funny as John Niven ever is.
"I'm very inspired by John. Whenever I'm with him it turns into a conversation of spiraling awfulness! If anybody ever read our texts, we'd probably both be unemployed within a second. What I always wanted when I was a kid in Wolverhampton in a council house dreaming of being a writer, was that you'd come to the city and read books by people you really liked and then you'd meet them at a party and you'd become friends and you'd end up working together – and that's what happened! Whenever that does happen it's magic and it has happened to me."
Kill 'Em All is due to be published by William Heinemann on 4 October 2018. Author photo: Martina Bocchio / Awakening via Alamy.
Music: Elbow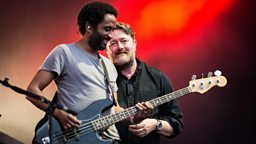 Elbow are an English rock band first formed in 1997, fronted by lead singer Guy Garvey.
Moran says: "Elbow are one of those very few bands that tap into the music I had when I was growing up. They're a working-class band, they're furiously literate, they're incredibly political, he sings like an angel, the lyrics are very beautiful, and they make these anthemic songs. They're the last of a dying breed so I cherish them.
"When I grew up, the working classes were musically dominant, and you were surrounded as far as the eye could see with brilliant literate progressive working-class bands, coming up with bangers and beautiful tender songs and writing about what everyday life was like – Madness, Dexys Midnight Runners, and then you'd have Britpop like Blur and Oasis.
"The bands that I loved were the ones that were almost like a treasure trail, they would talk about what bands they were into, what books they read, what philosophers they were into, and put little clues into the lyrics, like The Smiths. That's how I discovered Oscar Wilde, Keats and Yeats. It's that William Morris thing; I like bands that I both believe to beautiful and know to be useful.
"We don't really have that anymore now, we have 'solo artists', usually sounding like they're singing in a cupboard sounding very scared and playing sort of de-bangified bangers by playing them very sadly on a ukulele."
Image © Roberto Finizio/Alamy Live News.
Television: Love Island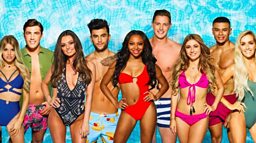 Love Island is a dating reality show in which contestants must live together in a Mallorcan villa, coupling up with each other to avoid being voted off, with the last couple standing winning a cash prize.
Moran says: "I can defend Love Island for as long as I need to. Firstly, because it is the one programme my entire family will watch together. Even the dog seems to enjoy it, and I suspect that's because it has equal intelligence to most of the people on TV. I don't have any problems with watching dim people in their pants struggling with small life events; I find that very relaxing given the current political climate in the world.
"But the thing I find most useful about it is that my children are teenagers, and this is incredibly educational. They're horrified by the things they see, but at the same time they know that they're going to be experiencing them in the next couple of years. It's so hard to talk about sex or relationships with your teenage kids, but when you're sitting and watching something like Love Island, and you've got all these situations happening it just allows you to go into a little rant or ask them questions about how it's coming across to them or how they would deal with that situation. It's saved me about a year and a half of embarrassing parenting, all whilst being wrapped up in a light entertainment format."
Series 4 of Love Island airs daily at 9pm on ITV2.
Caitlin Moran on Front Row