Main content
Do Your Dance for Children in Need
This year we want you to show us your dance moves! We want everyone to have a go.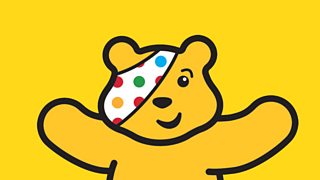 Here's how to get involved:
Make up a dance move or do one you know already.
Dance to the song and film it.
Post it on social media. Remember to tag us and send us a message to say you've done it. #DYD4CIN #DoYourDance #CIN
Challenge your family and friends to do one too!
If you need inspiration here are our five dances to get you started with dancers at Funk It Up Dance School in Bristol:
Pointy Birds – It's all about pointing. Watch out for the arm change.
Proud Mary – Stand tall, swing those hips and click your fingers top and bottom. The arm change can confuse you again.
Pulp Twister – Lean on one leg and twist away, change leg for another 8 count. Then hands across the eyes.
Bus Driver – Drive the bus, open the door, shout at the traffic.
Kick 'n' Roll – First you kick and point, then roll your hands and your hips.
Have fun, we can't wait to see what you can do.