Main content
Does an Automatic Renewal on your car insurance pay?
Rolling on your policy from one year to the next is meant to make life easier – isn't it? Giving a company your loyalty should also ensure you get the best service and the best price. But not according to these drivers.
Jamie Davis has been with Halifax for one year, and the premium he had was £799.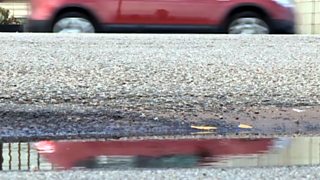 However the following year it came up to over £3700. If he allowed his policy to automatically renew he would have been out of pocket by £340 a month – a five times increase.
For Daniel Woolley the increase was even higher. Auto-renewing his car insurance with Aviva would have caused his annual premium to increase drastically from £1257 to £7,329.
When Daniel called Aviva to complain they immediately reduced it to just £2,099.
He was surprised that they could reduce it by so much and so quickly, which raises the question – Why didn't they just send him that reduced premium in the auto renewal letter?
Mark Croucher had a similar experience with Admiral. His premium last year was £709 and this year his renewal quote came to £1,022.
In shopping around Mark found he could get cover for much cheaper. In fact one company quoted him just £668 for a whole year's insurance.
Surprisingly it was Admiral - so even though Mark was a loyal customer the best deal for him only came when he presented himself as a new customer.
Frank Elswood's had his car insurance with Admiral too, and when they offered him his renewal premium, he decided to go elsewhere.
Frank was caught out by a contract clause which allowed Admiral to continue debiting his account unless he contacted them to cancel.
"What I then found out was that Admiral had taken the money out of my bank account and they sent me an insurance policy which meant I'd actually insured my car twice."
Admiral did eventually refund most of the money, but Frank was still left £47 out of pocket. In this case Frank was caught out by the small print and so was adamant that it wouldn't happen again.
When his daughter decided not to renew with Admiral Frank and his daughter sent them an email to notify them they didn't want to renew.
"We actually sent them an email this time...and the email stated categorically that we were not renewing the insurance with Admiral."
But despite that email, Admiral has carried on with their attempts to take the money.
"I've had four letters of them so far the last one telling us that they were about to put it with their collection agency, it's just so frustrating, and when you're getting debt collectors letters it's the time it's the effort, it's the mither and everything that goes with it, to try and sort this out when I don't feel like I've done anything wrong."
For these drivers car insurance auto-renewals have been nothing but trouble.
Company Responses
A spokesperson for Halifax says,
Based on the information Mr Davies supplied, the renewal quote was selected from a leading panel of insurers which we use to help customers find the right cover at the best price.
The underwriting scheme which offered Mr Davies' quote in 2011 was not the best price available on our panel when we searched for his renewal offer. After speaking to Mr Davies and reviewing his requirements we were able to amend his policy, including the removal of an additional 25-year-old newly-qualified driver. These changes allowed us to offer a renewal quotation that reduced the premium by more than £2,000.
A spokesperson for Aviva says,
During 2011 Mr Woolley submitted two claims against his Aviva motor policy. We updated his policy details to show these claims and his No Claims Discount of four years was adjusted accordingly - as it would be on any insurance policy. However these particular claims should not have had an effect on Mr Wolley's NCD –both were classed as non-fault accidents and should not affect our NCD calculations. This should have been updated on our systems, but it wasn't and this resulted in Mr Woolley seeing an increase on his monthly payments.
When he rang us the error was picked up, his four years NCD was reinstated and the premium re-calculated accordingly.
It is unfortunate that this detail was not explained to Mr Woolley during his call to us. We are sorry for the confusion this caused and for the original error on his policy that led to the inaccurate premium increase.
An Admiral spokesperson says,
We take customer service very seriously at Admiral and we are sorry that both Mr Croucher and Mr Elswood are not happy with the service they've experienced
Mr Croucher
We are sorry Mr Croucher found cheaper quotes online than the renewal price we quoted him. The price of a customer's policy is based on detailed information we look at as a company and currently our new business and renewal customers are assessed independently. We know this has caused some customers problems and have been working on changing our systems to stop this problem.
In our renewal documents we give the customer the renewal price for the coming period of cover and ask the customer to contact us if they are not happy with the price or want to cancel the policy. When Mr Croucher called us we reviewed his case and arranged for the price of the cheaper single car Internet quotes to be applied to the existing Admiral policy.
Mr Elswood
The three insurance policies detailed in Mr Elswood's complaint renewed through automatic renewal and we are sorry Mr Elswood and his daughter feels we renewed their policies without their permission. At Admiral, along with most other insurers, we automatically renew our customers' policies unless they tell us they do not want to. As motor insurance is a legal requirement this means there is no break in cover for the customer and the customer doesn't have to worry about when their insurance runs out.
We send out renewal documents 3 weeks before the renewal date to give our customers time to review our price and contact us to cancel if they want to.
This has become increasingly important following the legislative changes brought in by the DVLA. Under the Continuous Insurance Enforcement (CIE) rules, it is a legal requirement for motorists to insure their vehicle at all times unless it is declared as 'off road' with a Statutory Off Road Notification (SORN) with the DVLA. If there is no record on the Motor Insurance Database (MID) showing a vehicle is insured, and a customer has not declared it SORN, they will receive a warning letter that they could face a fine, or prosecution. In some circumstances the vehicle could be clamped, seized and ultimately, destroyed.
We detail the automatic renewal procedure in several places, as outlined below, making it clear and transparent to our customers and we feel it is of benefit considering the current legislation mentioned above. Information is included in the Welcome Pack which they receive when they accept insurance with us, in the renewal pack sent three weeks before renewal is due, in our policy booklet and privacy and security statement.
Mr Frank Elswood's policy in further detail:
This policy with Mr Elswood as policyholder automatically renewed on 4 June 2011 and he contacted us on the 13 June to tell us he had purchased insurance elsewhere and was not happy we had taken the premium from his account. Although Mr Elswood says he was unaware of the auto renewal procedure, it is worth noting his previous policy with Admiral had auto renewed on 4 June 2010.
Mr Elswood confirmed he had received his renewal documents and as he contacted us to cancel the policy 9 days after cover began, he was charged a cancellation fee of £22.50.
If a customer can provide us with details of alternative insurance we will waive this fee however when our representative asked Mr Elswood to provide details of his new insurance policy he did not want to give the details. As part of our standard procedure when a policy is cancelled, we conducted a check on the Motor Insurance Database and at that time, we were listed as the only insurers of the vehicle for this period.
Our representative also advised Mr Elswood we would reimburse any charges he incurred from his bank as a result of us debiting the renewal premium from his card if he can provide us with proof. To date, we have not received this.
Mr Frank Elswood' daughter's policy in detail:
In regards to Mr Elswood's daughter's policy, Mr Elswood is listed as the policyholder and his daughter as a named driver.
For this policy Mr Elswood had registered for our secure website and had elected to receive any documentation via email. The renewal documents were sent on 28 July via email for the policy to renew on 22 August.
We received an email from Mr Elswood on 28 July 2012 in which he stated he will never consider using Admiral again. Although the email address and policy number matched the information we held on file, Mr Elswood did not include a date of birth or postcode in the email. This unfortunately meant we could not act on his email as in order to cancel a policy we need to satisfy our obligations under the Data Protection Act 1998 which allow us to verify the policyholder himself had requested the cancellation. One of our representatives sent an email to Mr Elswood requesting these details in order for us to process his request but as we have not received a response from Mr Elswood, we had no option other than to continue the insurance.
Unfortunately, we were unable to take payment for this policy so we cancelled the policy for non-payment on 17 September 2012.
Unfortunately, we do not have any record of the email Mr Elswood sent on 13 September and at present, we have instructed our debt collection agency to chase repayment of £127.76. This includes our £47.50 cancellation fee and a pro rata charge for the cover we provided between 22 August and 17 September 2012.
Unfortunately, we do not have any record of the email Mr Elswood sent on 13 September. Our Quality department are reviewing this complaint from Mr Elswood and will send him a full written response shortly. As a goodwill gesture we will waive the outstanding amount of £127.76 on this policy and stop the debt collection agency from chasing him.