Main content
Life in colour: Photojournalist John Bulmer's world view
8 July 2015
In the latest in a series of BBC Arts features and short films highlighting the careers of some of the world's finest photographers, we hear from photojournalist John Bulmer. In the early 1960s Bulmer set out to document the people and landscape of the north of England in a series of magazine assignments. A pioneer of colour photography, his subsequent work took him to over 100 countries around the world.
Watch the John Bulmer interview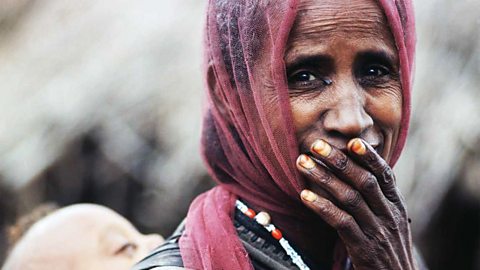 Documenting life in England's North led to a career taking images in over 100 countries.
Retired photojournalist and filmmaker John Bulmer fell in love with photography as a teenager, inspired by Henri Cartier-Bresson's ethic of understanding life through photography - as outlined in his book The Decisive Moment - and by the 'sensational' images in Life magazine.
Bulmer's career began after he was thrown out of his Cambridge college for capturing the frowned-upon activities of the 'night climbers'.
Nelson not only launched my career, but it opened my eyes to a new world, the North - as exotic as darkest Africa for me. Every street corner revealed some new wonder to my camera
The aspiring photographer sold Life magazine a series of images of students participating in the traditional nocturnal pastime of scaling University roofs and buildings.
He says: "I got to Cambridge and I started taking pictures for the student magazine.
"Then I sold a story on the training of the Oxford Blue boat crew to Queen magazine, and then the big story to Life magazine, on the night climbers of Cambridge.
"And then I knew I was a serious photojournalist, in my book."
In the early 1960s John set out to document life in the bleak industrial centres of the north of England - first of all to Nelson, Lancashire, for Town magazine.
The idea was to compare two towns, "to show the contrast between Nelson, where the mills were all closing, and Watford that had the fastest growth rate in the country".
Nelson, Lancashire, 1960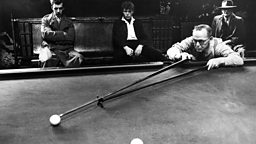 Snooker players in Nelson photographed for Town magazine's feature on the town and fast-growing Watford.
Although he'd worked extensively in black and white, Bulmer began to explore colour photography.
Although colour seems very obvious to us now, in those days we were used to taking photographs in black and white
At the time colour was seen as a commercial tool in image spreads for fashion or travel advertising, and 'serious' photography was invariably shot in black and white.
He explains: "Although colour seems very obvious to us now, in those days we were used to taking photographs in black and white."
As Bulmer sees it, photographers were shooting black and white pictures with a colour film in their cameras, instead of treating this new element as a new art form.
County Durham, 1964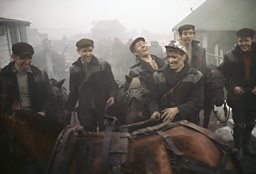 Miners in Waldridge, County Durham, 1964 | Bulmer took these colour pictures in fog, which naturally obscured the background 'noise'.
"The thing about colour is, photography is a form of abstraction in a way - you reduce everything to something that's simple enough to give you an emotional kick.
When you add colour it creates an extra dimension that is a distraction
"And when you add colour to that it [creates] an extra dimension that is a distraction. You really have to adjust your subject slightly and your composition to take account of it so that the pictures don't get too confused."
Bulmer's work with the Sunday Times Magazine - in 1962 it was the first colour supplement to accompany a national newspaper - took him to over 100 countries in the next ten years.
As the priorities of the Sunday Times Magazine started to change in the early 1970s, Bulmer turned to filmmaking.
Having already directed some short documentary films, he worked with director Mai Zetterling on her film reflecting on Vincent van Gogh's obsession with the Provençal landscape.
Vincent the Dutchman was shown as part of the BBC's Omnibus strand and was awarded a BAFTA for Specialised Programme in 1973.
Bulmer also made a film on Burma for BBC series The World About Us - the first for ten years to be shot in the country by a British cameraman.
He photographed many celebrities during his career, including John Lennon and Yoko Ono, Peter Sellers and Meryl Streep.
When he retired, John returned home to boxes of negatives from his photography career, which he used to produce his recent books The North and The Wind of Change.
All photographs © John Bulmer.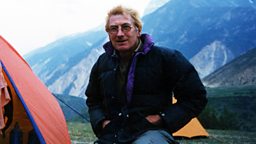 John Bulmer
The Black Country, 1961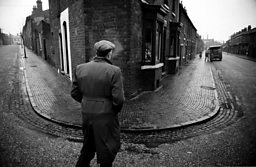 A divided street in the Black Country, photographed for the Town magazine feature 'England's Hard Centre: The Black Country'.
County Durham, 1963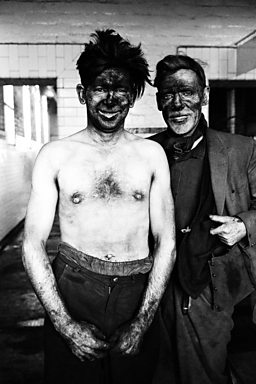 Miners in the locker room after working a shift at Dawdon Colliery, County Durham.
Manchester, 1976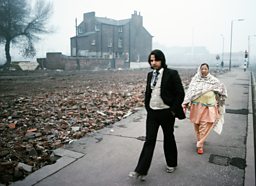 Bulmer's last assignment in the north of England was for Geo magazine.
Ethiopia, 1965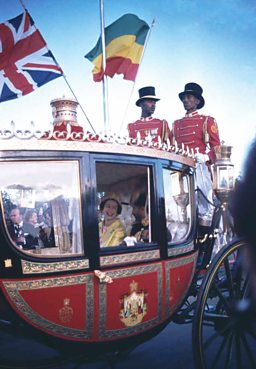 Queen Elizabeth II with Haile Selassie in Addis Ababa - her first visit to an African country which was not part of the Commonwealth.
Yorkshire, 1964-5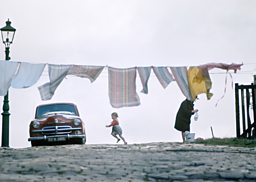 A washing line strung across the street in Halifax, West Yorkshire, 1964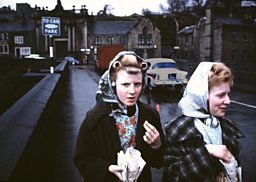 Mill girls in Elland, Yorkshire, 1965
Orkney, 1976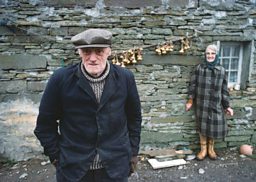 Old couple on the island of Mainland, Orkney, 1976
Appalachia, East Kentucky, 1967
Over half the families in Pike County, Kentucky lived below the US government's official poverty line & cases of chronic, crippling malnutrition were rife.
Route 66, New Mexico, 1967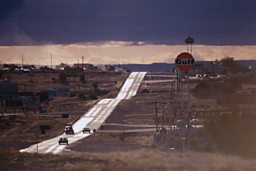 Route 66 slices through a suburb in New Mexico. Bulmer & Philip Norman drove 2,448 miles along the length of Route 66 in 1967.
Liberia, 1969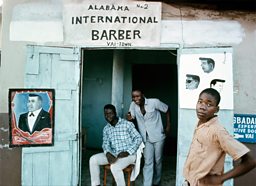 Barber's shop – the US influence is clear. (The capital) Monrovia's houses have strong echoes of the Southern States of America.
South Yemen, 1965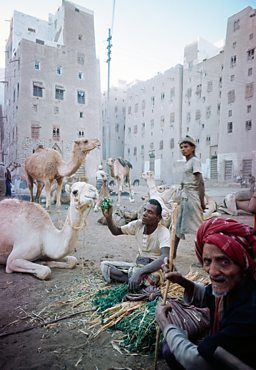 Camel herders feed their camels after arriving from a long journey across the Empty Quarter, the vast sand desert to the north.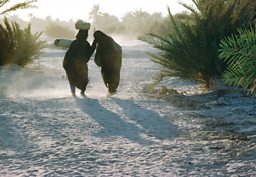 Despite an extreme political scene in Aden, life went on as it had for thousands of years in the Hadhramaut, South Yemen.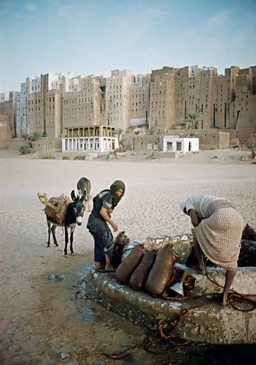 Boys fetch water from a well at Shibam, South Yemen - famous for its mud-brick high-rises.
Aden, Yemen, 1977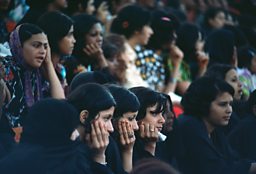 Young women at a celebration in Aden to mark the tenth anniversary of the take-over by the military Junta. Their approach was more Marxist than Islamic, and the education of women was encouraged.
Beirut, 1976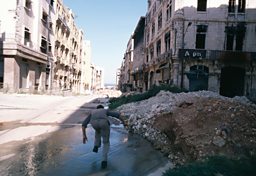 Dodging snipers in no-mans land, Beirut.
Pyongyang, North Korea, 1973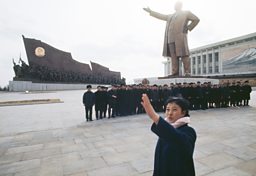 A guide with a group of visitors to the Mansudae Grand Monument (left), which depicts the North Korean revolutionary struggle.
Northern France, 1967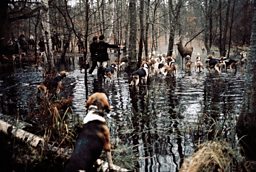 A stag hunt in the oak forests of Compiegne.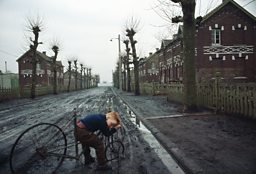 A street in northern France.
New Guinea, 1963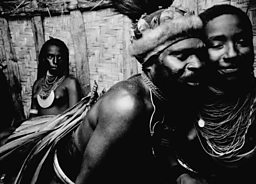 Traditional courting ceremony in a remote village deep in the rainforest
More photography from BBC Arts