Main content
The Scottish vets taking their skills to the other side of the world
Two Scottish vets have taken the plunge and are diving into the Aussie way of life. But rather than opting for the sun, sea and surf of Brisbane or Sydney these best friends have opted for a life tending to the animals in and around the city of Bendigo. A place made famous during the Australian gold-rush of the Victorian era.
In the twelve-part series Scottish Vets Down Under we follow the day-today encounters of these expatriated animal doctors.
Meet the Vets
Dr Chris Allison moved to Bendigo after visiting his best friend Mike on holiday and loved the 35ºC temperatures and associated diversity of wildlife so much he decided to stay.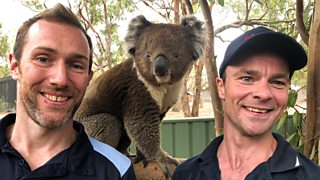 Chris and Mike
His surgery focuses on the treatment of small animals. Just like in Scotland he will often treat pet cats and dogs, but in Australia it's not unusual for their injuries to be caused by giant grass seed infections or even snake bites.
In addition he'll regularly treat all manner of Aussie species from kangaroos, koalas, pythons, wombats and of course the wedge-tailed eagles, brought in by Neil from the local wildlife reserve. Wee budgies they are not!
Dr Mike Whiteford arrived in Bendingo in 2008 for a bit of an adventure. He runs the Bendigo equine surgery with his fiancé and fellow vet Dr Sarah Jalim. Situated across from Bendigo Racecourse in Central Victoria, together they provide specialist surgical and medical treatment to horses. From curing colic, caring for foals with facial injuries, to looking after mares during foaling season. Sarah says, "It can often feel like doing two jobs at once."
On reflection Mike maintains what he and Chris do on a daily basis are worlds apart, "I've gone so far down the rabbit hole one way and he has literally gone so far down the rabbit hole in the other direction, I think if we were to swap jobs for the day I don't know whether we could survive."
While Chris admits, "there's nothing like doing a bit of farm work and horse work to put you off ever wanting to do it again, so I was pretty sure early on that small animals were for me."
Either way they both agree, "It's a huge honour that the Aussies trust a Scotsman with their precious wildlife."
Latest features from BBC Scotland