Main content
Seven pioneering players in World Music
Whether Alan Lomax's adventures collecting folk music in Appalachia, the field recordings Bela Bartók etched into wax cylinders in Algeria, or Ali Farka Touré's impromptu performances in Andy Kershaw's Kitchen, "World Music" has regularly featured on the airwaves of BBC Radio 3 and before it the Third Programme.
King George VI was still on the throne at the time of the Third Programme's maiden transmission, and the first international flight had only just departed from London Heathrow. Long before the term "World Music" was coined, though, the station was already championing musical expression in all its diversity. We thought our seven decades of broadcasting seemed a good opportunity to take stock of some of the seminal artists and ensembles from across the planet who've shared our history.
1. Umm Kulthum
Famous for its pharaohs, pyramids and pantheon of ancient deities – among whom resided Hathor, the goddess credited with the invention of music – Egypt was also home to one of the most influential Arab singers of the 20th century. Known as the "Star of the East", Umm Kulthum developed her vocal agility while reciting verses of the Koran in the village where her father was sheikh. Her grounding in religious chanting and the complex system of maqams [a set of modes found in Arabic music that each house a collection of melodic notes which are related to each other over the course of an improvisation] flourished into a singing style that became the epitome of Arab musical aesthetics – full of pathos and emotional yearning.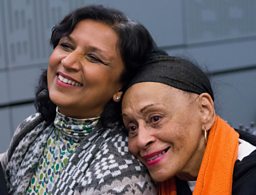 Lopa Kothari with Cuban chanteuse Omara Portuondo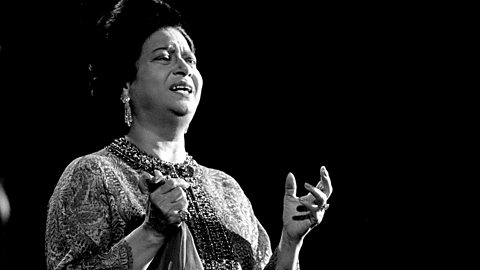 Egyptian singer and "Star of the East", Umm Kalthum, visits London.
2. Lord Kitchener
Known otherwise as Aldwyn Roberts, this "grand master of the calypso" travelled, aged 26, from the West Indies to the UK in June 1948, where he established himself as a regular performer on the BBC and became, for a generation of Caribbean immigrants, a voice that commented on the repressive realities of life in post-war Britain.
Already a successful calypsonian in Trinidad, Lord Kitchener went on to developed a new, more rhythmic style of calypso after he arrived in London – a style that moved away from the string and piano bands that had previously dominated the genre in the Caribbean, to one which incorporated more African and Latin rhythms, and jazz-flavoured horn sections.
3. Miriam Makeba
Miriam Makeba's musical trajectory spanned the political landscape in which the black power and civil rights movements of her native South Africa were played out. She crossed paths with singer-songwriter Harry Belafonte, who helped Makeba gain entry to and make her break in the US, where she sang at the birthday of John F Kennedy. Famous for practising a distinct vocal style known as mbube (think "The Lion Sleeps Tonight"), Makeba, affectionately known as "Mama Africa", popularised the style that went on to find voice amongst the likes of Ladysmith Black Mambazo.
A vocal opponent of apartheid, Makeba testified against its ideology of racial segregation in front of the United Nations, and is famous, amongst other things, for being the voice of the Nelson Mendela birthday tribute concert at Wembley Stadium. The event reached a huge global audience and is credited with increasing scrutiny of and pressure on the South African government that led, ultimately, to the reversal of the ban on anti-apartheid political groups, and the release of Mandela from his incarceration.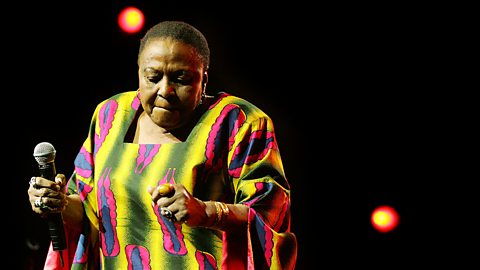 "Mama Africa" relates how audiences everywhere demand one of her "silliest songs".
4. Youssou N'Dour
Frontman of the Super Étoile de Dakar, Senegalese singer Youssou N'Dour is famous for representing a popular dance music style called mbalax – a blend of Senegal's traditional sabra drumming practices marked by dialogue between pitched drums, with Latin, jazz, rock, soul and other influences. He's known for singing about city life and respect for one's elders, as well as composing songs in praise of women. But, vitally, he updated African griot traditions [griots are troubadour-like musicians who accompany themselves during sung story-telling] with social commentary that saw him become a politically conscious musician. He's famously duetted with Neneh Cherry in Seven Seconds, and has performed with Bruce Springsteen, Tracy Chapman and Paul Simon. His story is intertwined with that of the World of Music and Drama festival, WOMAD, instituted back in 1982 and he's no stranger to the BBC, too, where the late Charlie Gillett championed his recordings.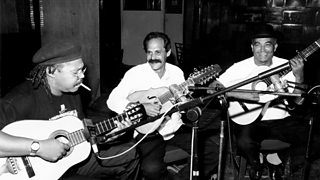 5. The Buena Vista Social Club
Following the collapse of the Soviet Union in 1991, Cuba lost one of its political allies, a major trading partner, and suffered an unprecedented contraction in its economy. During what is euphemistically referred to as its "período especial", the island's musical heritage was cultivated as a source of interest by which to attract tourists and their much needed revenue. It's in this context that producers Nick Gold and Ry Cooder persuaded a generation of mostly retired musicians to record a session in the famous EGREM studios in Havana. Seven million album sales and many world tours later, the Buena Vista Social Club harked back, nostalgically, to what some call a golden age of the Cuban music scene in which the band's musical titans – Ruben Gonzalez, Compay Segundo, Omara Portuondo and Eliades Ochoa - had performed son-based ballads and dance music like the rumba and cha-cha-chά in members-only social clubs…
6. Ravi Shankar
One of the doyens of Hindustani music, and an individual George Harrison describes as "… the Godfather of World Music", Ravi Shankar is famous for his innovative and pyrotechnical performances that stretched the possibilities of the sitar. He played with a singing style known as "gayaki", and is a famous proponent of one of the most characteristic traits in classical Indian music – the gliding portamento. It's achieved created by pulling the strings of the instruments sideways.
Shankar's works have become immortalised on film and on disc, but what better way to celebrate his musicianship than the great man's first and only performance at the Proms, in the legendary Royal Albert Hall, as part of his 85th birthday celebrations in 2005, with his daughter, Anoushka Shankar, in this symbolic handing over of the musical baton…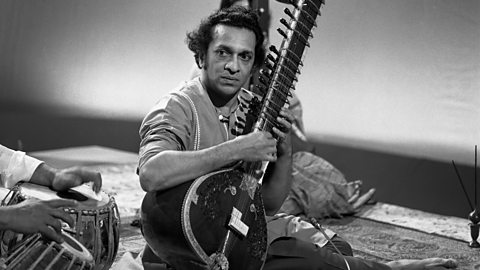 Ravi Shankar performs at the BBC Proms for his 85th birthday celebrations.
7. Mariza
Also a regular guest at WOMAD is the fado singer Mariza. Heir to the late Amalia Rodriguez, Mariza has deservedly staked her place amongst a new movement of fadistas that have appeared over the past 10-15 years. Born in Mozambique, she moved to Lisbon with her parents, and grew up listening to performers at her parent's restaurant in Moreri. But while she herself sang soul, gospel and Jazz, it was at the behest of her grandfather that she adopted this most traditional Portuguese form of song, full of pathos and longing. She went on to mould fado into her own style – as she succinctly puts it: "Half of me is very, very Portuguese and the other half is very, very African." Reflecting her own unique background, Mariza subtly rearranged the roles of the genre's main instruments (the Spanish and Portuguese guitar, and most crucially the bass). "I need rhythm", she declared. "I was not happy with the form of fado [as it was] and I was feeling we need that swing to sing fado."
Lopa Kothari discusses key world music performers, whose careers have intersected with Radio 3 during the station's last seven decades, with guests Simon Broughton, Editor of Songlines Magazine, and DJ Rita Ray on Friday 21st October in World on 3. Composer Nitin Sawhney and songwriter PJ Harvey, and broadcaster Cerys Matthews also feature in this episode of World on 3.