Main content
Euro 2020 - Let's rate the strips for style points
By Roisin Kelly // BBC The Social contributor // 10 June 2021
It's Euro 2020 time and if you're like me and want to be involved in the tournament on a deeper level than just the football... I've got a treat for you. Join me on this journey rating the strips in Group D and... Wales. I'm going to score them out of ten for design, colour and wearability.
Let's begin...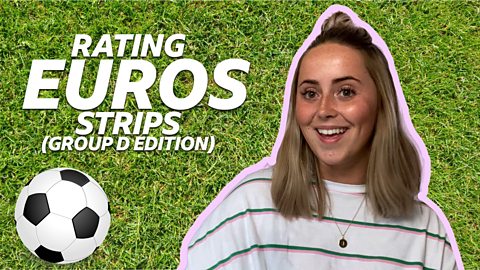 Forget the football, here's the real discussion we should be having at Euro 2020.
Scotland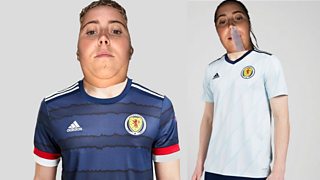 I like it…I like it, of course I have to say that. I don't love the stripes on the dark blue. It's giving me very much stain vibes. But will I wear one and support them? Yeah!
Now the away shirt, that's what we're talking about. That is lovely. Wee pair of denim shorts would look nice.
The first Scotland top, in my scoring system firstly, design effort. Do I think it's been the right effort for the first top with the sort of stain marks? No. So for that, I'll give it an eight of ten.
Now for the colour: the colour on the home strip I don't love but the second one's colour I really love, so I feel like that sort of balances it out. A seven out of ten.
Wearability. Would I wear these? Yeah! I would wear these but not both at once, that would be strange. Can I see myself wearing that on holiday in about seven years' time? Absolutely yes. For wearability I'll give them a nine.
Final Scores: Design 8/10 | Colour 7/10 | Wearability 9/10
England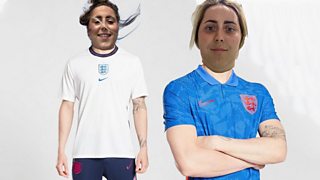 The England home shirt is giving me absolutely nothing. It's a white t-shirt, basically.
See this design isn't exactly ground-breaking, but it works for me. Y'know, I'm actually not against it.
Obviously I know that the British flag is blue, red and white but I do think in my mind, I would associate England with being more of a red colour. So, I think they should have done that top in red. But overall for the design, I do quite like it.
For wearability, they are both quite wearable. I actually would give them a nine.
I'm gonna give them a six on colour because one's just white and that's actually not a colour it's a shade.
And the second one, I do think should be red – but I'll give them a six.
Design effort - the second top with the blue and the patterns, that's obviously had quite a lot of effort I would say, but the white top, minus points for the white top cause it is literally just a white top. I am going to give them a seven.
Final Scores: Wearability: 9/10 | Colour: 6/10 | Design: 7/10
Croatia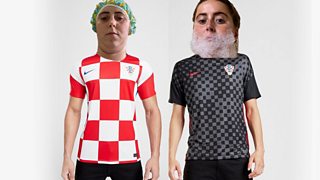 Croatia…Croatia. I see what they're trying to do here, I do see what they're doing. They've got the flag on the t-shirt and everything. That is quite sort of, jockey vibes. It does remind me of the Grand National. I would not be wearing this. Sorry Croatia.
The Croatia away shirt is giving me quite a lot of Hot Wheels energy. I like it, but I don't think it's very football. I think Croatia's vibe has been more motoristic. That's not a word but you know, you get what I'm saying.
Wearability: both of Croatia's shirts for me are getting a four because I think you would need to be a fan. I'm gonna give them for colour, a six. I get that it's their flag colour but I just feel like for me it's not the right colour. Design effort, I'll give them an eight. All the best Croatia guys.
Final Scores: Wearability: 4/10 | Colour: 6/10 | Design: 8/10
Czech Republic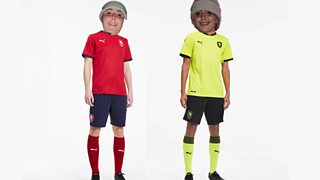 We're onto the Czech Republic, I have to say I'm feeling really let down here. If I was from the Czech Republic I would maybe feel quite disappointed by this. Literally just a red t-shirt…come on. Give me something...
All is not lost, so I've just found the Czech away kit and I love it. I love it, I do love the colour green. This is fun.
For both of them – design effort has to be a three because they've just went solid colours, there's not really any designing going on here so that would have to be very low.
Colour: I'm going to give them an eight because there is colour there. Albeit one colour, but you know they do have it. They have incorporated it in.
Wearability: I suppose, I suppose the whole just red shirt thing is quite wearable. So maybe I'll give them…a seven.
Final Scores: Design: 3/10 | Colour: 8/10 | Wearability: 7/10
Wales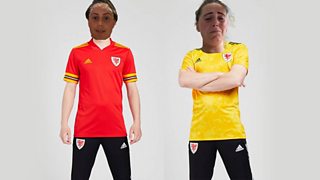 I like it, right I like it – it's a bit Fireman Sam. However, Fireman Sam is Welsh isn't he. Maybe that's the whole thing! Maybe I've just got the psychology behind the process, but for me it doesn't really scream Wales.
I think they should have done something green. Even though red and green should never be seen, but on a Wales strip I think it could be.
But this away one, the yellow and the red I like but it's just a bit Spanish for me. Not that that's a bad thing, but I feel like the Euros, you really need to be singing about your own country, you need to be patriotic. This says to me, trying to be somebody you're not. So I like it, but I don't think it's very them.
Final Scores: Wearability: 6/10 | Design: 7/10 | Colour: 9/10
Thank you for joining me on that fashion journey. Happy Euros!