Main content
Tales of the Troubles: how Scots got involved in the war next door
As the Troubles flared in Northern Ireland, many worried that the civil unrest could spread to Scotland.
Separated by just 12 miles of water, Scotland and Northern Ireland share both close physical and familial ties. When the Troubles began in the late 1960s, these bonds prompted sympathy and support for those involved. These three stories from The War Next Door: Scotland and the Troubles, gives a glimpse into the lives of Scots during the conflict.
Scots-Irish Catholics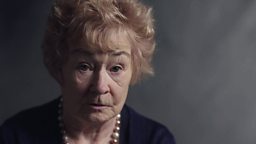 Eleanor's grandparents arrived in Scotland from Northern Ireland in the early 20th Century and, like many others from Ulster, settled in North Lanarkshire. As a young girl, Eleanor spent her summers with relatives in a small Catholic enclave near Antrim, where her eyes were opened to the poor housing conditions and unemployment difficulties in the community.
In 1968 while Eleanor was studying at Glasgow University, the Northern Ireland Civil Rights Association began a series of protests to highlight inequality in the province. A march in Londonderry was broken up by the local police, the RUC, using batons and water cannon.
"It was a year of anti-Vietnam," explains Eleanor. "There was CND marches, there was the ANC, apartheid and it seemed to me that [...] young people in Britain were campaigning but absolutely oblivious to the injustices happening across the water."
Eleanor's outrage was stoked further by the violence of Bloody Sunday.
"I did not suffer any injustices in Scotland so there was no sense in which I could do things that were illegal. If I had been living as a nationalist and a Catholic [in Northern Ireland], I might have had a very different perspective which said 'the legal stuff isnae working; we'll have to do something that is deemed illegal'."
"I did then begin to get involved in marches to say to people, 'Do you know what's going on there?'. We had to keep protesting ... we had to keep saying to people, 'This isn't right'. I think that was a seminal moment for a lot of people in Scotland."
Scots Protestants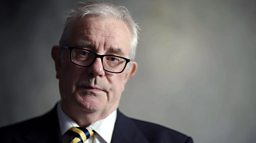 J. G. MacLean had joined the Orange Order in his teens and felt great solidarity with fellow Protestants in Ulster when the Troubles began. Many of his contemporaries believed that the violence could spread and spark civil war in Scotland.
"If that seems ridiculously alarmist now, it didn't then," he says.
Speaking to the BBC's Current Account programme in 1971, he disclosed that the Orange Order in Scotland had been collecting and sending money to Northern Ireland "with a view to catering for refugees who would come from Protestant areas in the front line" if civil war broke out there.
J.G. explains, "The Ulster Protestants didn't seem to have any allies at all, whereas the Roman Catholic inhabitants of Ulster were receiving tremendous support. So Protestants in Scotland decided that they too had a duty to support their kith and kin in Ulster."
The allegiance to Ulster Protestants led some individuals to join paramilitary organisations. J.G. acknowledges the role some Protestants played.
"The loyalist paramilitary organisations soon had thousands of members in Scotland, and a fair number of persons were convicted of attempting to smuggle arms and explosives into the province, in what I would regard as perhaps a misguided attempt to support the Ulster loyalists."
The Scottish soldier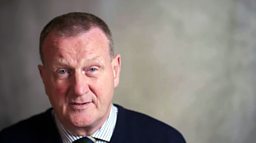 Around 40,000 Scottish military personnel served in Ireland during the Troubles. One young soldier, Eddie, found himself patrolling the streets of Belfast just after his 18th birthday.
"The Scots and the Irish have got a great affinity between each other," says Eddie. "They were never going to like us [being there], but they liked us a wee bit mair than some of the English regiments in there. They tolerated us more."
While they were patrolling the Lower Falls area, in a street nicknamed Sniper Alley, one of Eddie's friends was shot dead. But amidst the turmoil, an encounter with a local woman is recalled fondly by Eddie still.
"Every time I seen her she gave me absolute dog's abuse," remembers Eddie.
"She was one of the most stunning looking women I've ever seen in my life — but what a mouth! [One day] I seen her coming so I'm starting to think about what reply I'm going to give this woman [...] she never even broke stride, she walked past and whispered 'Look after yourself'.
"It threw me, but it was nice."
On BBC iPlayer
Remembering those Scots who were involved in the Troubles. In episode one, Scottish soldiers are deployed to Northern Ireland, an IRA unit is discovered in Glasgow and explosive material is smuggled to paramilitaries in Northern Ireland.
Latest features from BBC Scotland