Main content
Zoe Laughlin
Zoe Laughlin is the co-founder and Director of the Institute of Making at University College London.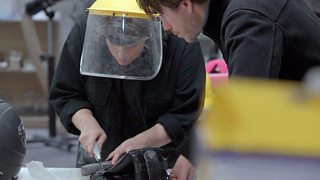 Simon Reeve watches Zoe at work
Working at the interface of the science, art, craft and design of materials, her work ranges from formal experiments with matter, to the art of making the best spoon in the world.
From a young age she loved making things and has forged a career around this passion. She holds an MA from Central Saint Martin's College of Art and Design, and a PhD in Materials from the Division of Engineering, King's College London.
Zoe's work as an artist has included the staging of a number of large-scale public performative events in partnership with national institutions such as Tate Modern and the Victoria & Albert Museum. Her work has been shown in London's Science Museum and is included in the new permanent collection of The Design Museum.
She can often be found on television or radio celebrating all aspects of materials and processes of making, and hosts The Things That Make Us podcast.
Zoe is originally from Sandwich in Kent and lives in London.