Main content
BBC Fresh Profile: Michael Koranteng
Filmmaker Michael Koranteng describes why he made a film for BBC Fresh.
Michael says he's keen to give an alternative view of what young people in his area do in their free time.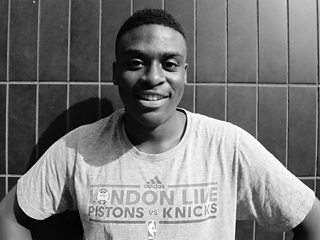 Why did you pick this subject for Fresh?
I wanted to work on this project because I wanted to change people's first thoughts on Hackney. I am a keen sportsman and like team sports, especially basketball, because I like to achieve things through hard work and being disciplined. My relationship with Hackney is not just that I was born and raised here, but because my family and friends live in Hackney too
What motivated you to make this film?
My film is about playing basketball, being part of a team and how this is, for me, a way of life. In my film I talk about these ideas with my team mates and coach. My film gives an inside look at what we do during basketball training at my school like drills, practicing matches, discipline and hard work, as well as the fun side and our team spirit. I hope my film will portray a different image of what young men in my community enjoying doing on a Friday night.
What camera did you use to shoot your film?
I used a Sony NX30E
Who/what inspires you?
My coach is an inspiration not just to me but to lots of other people. I appreciate the way he teaches basketball as a way of life that is constructive. I feel it's really important that young people in general should take every opportunity they gain not just in sports but academically too. My team mates are a real inspiration as well. They have really helped me realise my potential in this way and being successful in life.
What are your plans for the future?
I would love to become a sports coach myself. I have a coaching qualification in football and am currently working on my basketball coaching qualification too. My plan for the future is to complete my sports science studies at college so that I can go to university to train to be a physiotherapist. I'm currently working on a project about barriers to participation in sport, and have been interviewing local basketball clubs about these issues.
What is the most important thing you have learned so far?
For me this project taught me how to come up with open and effective questions and ask them in ways that work on film and can relate to other young people.
This film was created as part of the Creating Hackney as Home project. For further information on this project, see the links below.