Main content
Figurenotes arrangements
Figurenotes is a simple, progressive way to learn to read and play music. This notation was initially designed to enable people with additional support needs, but has proven useful for all beginners on a huge range of instruments.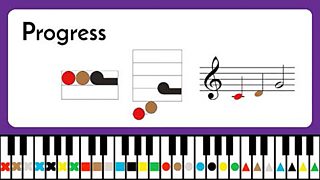 Each musical note has a colour (e.g. all the Cs are red) and each octave has a shape (e.g. middle C is a red circle). Rhythm is literal and needs little explanation. You can progress through 3 simple stages to reach standard notation, never letting the challenges of note-reading interrupt your progression on your instrument.
There are no 'dots and squiggles' to be learned, just two simple concepts:
MATCHING: Find the matching shape on your instrument and play it.
PLAYING IN PULSE: Try and play the same note with a steady beat.
Download and print this comprehensive guide to Figurenotes for a detailed explanation of how the system works. You can find out more on the Figurenotes website.
Drake Music Scotland have arranged the following works from Ten Pieces III into their Figurenotes system - you can also find Figurenotes arrangements from earlier years of the project below.

Ten Pieces III
These resources can be played on a range of instruments. Check the key and pitch before printing. Visit the Figurenotes website for editable versions of these resources.
Copland: Rodeo – Hoe-Down
Elgar: 'Enigma' Variations – Theme
Dvořák: Symphony No. 9 in E minor, 'From the New World' – Largo
Orff: 'O fortuna' by Carl Orff
Purcell: Abdelazer – Rondeau
Sibelius: Finlandia
Tchaikovsky: The Nutcracker – Russian Dance
Tchaikovsky: The Nutcracker – Waltz of the Flowers
Ten Pieces I and II
Explore Figurenotes arrangements from the first two years of the project. Arrangements for Beethoven, Grieg, Holst, Mozart and Mussorgsky are based on transcriptions of the beginner orchestral parts for these pieces.
Bizet: 'Habanera' and 'Toreador' from 'Carmen Suite No. 2'
Beethoven: Symphony No. 5 (1st movement)
Bernstein: 'Mambo' from Symphonic Dances from 'West Side Story'
Grieg: In the Hall of the Mountain King
Holst: 'Mars' from 'The Planets'
Mozart: Horn Concerto No. 4 (3rd movement)
Mussorgsky: A Night on the Bare Mountain
Vaughan Williams: The Lark Ascending