Main content
Voting Info
These Terms were updated as of 27th September 2018 and apply only to the 2018 series of Strictly Come Dancing.

Please note you cannot vote from this page. When the vote opens, head to the Strictly homepage.
Vote details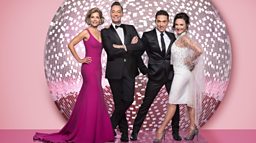 Where to vote online
When the vote is open, shimmy over to the Strictly homepage. You'll find the vote at the top of the page. But remember, the page you're currently reading just provides the instructions - it's not the voting page and you cannot cast your vote from here.
1. Get ready to vote
Before you can vote, you need to be signed in with your BBC account. If you're a Strictly superfan and voted online last year, then provided you're using the same device, you should still be signed in and ready to vote! If you've never voted online before then you'll need to register for a BBC account in order to vote or, if you already have an account but haven't visited the BBC in a while, you may need to sign in again before you vote for the first time.
Already have a BBC account?
You can sign-in directly from the Strictly homepage during the show. Alternatively, you can sign-in any time at bbc.com/signin.
Don't have an account?
You can register from the Strictly homepage during the show, or any time at bbc.com/register.
Top tips:
If you sign-in from the vote on the Strictly homepage you'll be taken to the sign-in page. Once completed, click 'Continue' and you will be returned to the vote automatically.
You only need to register once and you will stay signed in on the device you registered with unless you choose to sign out.
Make sure you're registered, signed-in and ready in plenty of time before the vote opens... or you'll have Craig to answer to!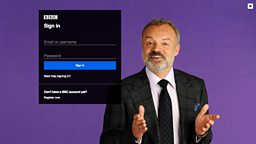 2. Vote
When the vote is open, it will appear at the top of the Strictly homepage. If you can't see it, try refreshing the page.
The couples will be listed in alphabetical order. You can then select your favourite dancing duo by clicking their name or their picture so that it changes from black to red and a small tick appears to the right of their names. Votes must be cast one at a time and you can change your vote before you submit but once you have submitted your vote it cannot be changed.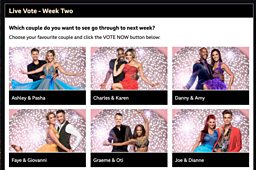 3. Click 'VOTE NOW'
Once you've made your mind up, simply click 'VOTE NOW' and your vote will be submitted.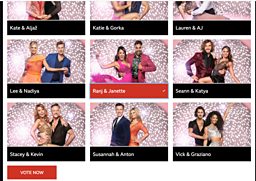 4. Vote again
Finding it hard to choose one couple, or maybe you want to vote for your favourite again? You can vote up to three times online each week by clicking the 'VOTE AGAIN' Button. In the Grand Final you will be able to vote a maximum of six times per BBC account. Once you have reached the maximum number of votes the 'VOTE AGAIN' button will disappear and you will not be able to cast any more votes.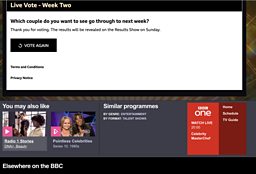 Voting by phone
If you don't want to vote online you can still vote by phone. The phone numbers will be given out in the show and be made available on the Strictly homepage whilst the vote is open.
Strictly Come Dancing 2018 - Terms and Conditions