Main content
Meet the authors behind a ground-breaking new book being championed by Stormzy
Taking Up Space: The Black Girl's Manifesto for Change is the first book to be published on Stormzy's #MerkyBooks imprint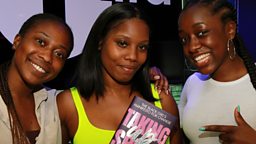 1Xtra's Nadia Jae recently spoke to Chelsea Kwakye and Ore Ogunbiyi, authors behind the groundbreaking new book Taking Up Space: The Black Girl's Manifesto for Change.
Chelsea and Ore are recent Cambridge graduates, and in Taking Up Space, they discuss what it was like as young black women to apply for, experience and graduate from the prestigious university – which is often seen as a white institution.
Their collaborative work is turning heads, and it's the first book to be published on Stormzy's Penguin imprint #MerkyBooks, besides his own Rise Up: The Story So Far.
The two authors spoke to Nadia about the powerful motives behind Taking Up Space. Here's what we learned:
This is a book for young black women
Taking Up Space is especially for black women, non-binary people, minorities – but it's also for those from a more privileged background who might not be aware of the struggles of imposter syndrome, say Chelsea and Ore. Everyone's actions count when instigating change.
"I really want teachers to read it"

Ore Ogunbiyi
"I really want teachers to read it," says Ore, saying she came across countless students who felt let down by their mentors. "A lot of the issues we face in university start before, [and] it had a lot to do with teachers who don't believe in us."
While she had some great role models, she says plenty of teachers didn't think she'd get in to Cambridge, "and they made that clear." Teachers need to have a greater grasp of how their attitudes could translate to students if they don't show belief, she argues, adding that Taking Up Space isn't just about the experience of university itself – it's about what happens before and after.
Attitudes need to change
Nadia asked Chelsea and Ore if they had examples of when life at university is different for black women, and they both cited lectures. "If something comes up that's about black people, you suddenly become this representative," says Chelsea.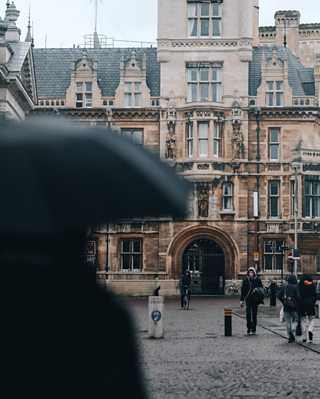 "It's a burden you didn't ask for," she adds, and white people aren't asked to do the same when similar issues crop up.
Attitudes can be seriously dated at uni. Some students would try to touch Chelsea and Ore's hair, others would assume they both studied at other local university Anglia Ruskin.
There's even the damaging attitude that if you're a black student who's successfully got in to Cambridge, you're expected to achieve "Black Excellence."
Chelsea hates that term, saying: "It doesn't give you room to fail, or just to be mediocre." Students should be given freedom to have fun and learn without outside pressure, instead of striving for excellence when they've already achieved so much.

Stormzy gives them messages of support
After signing them to his #MerkyBooks imprint, game-changing Glastonbury headliner Stormzy hasn't taken a backseat role in Taking Up Space's success.
While promoting the book on his socials, he'll send the authors messages of encouragement. Minutes before they appeared on BBC Breakfast, he sent the pair a voice note wishing them luck.
"It's so nice to know he has our back. The support feels so genuine." As showcased in his Glasto set, Stormzy is all about giving a platform for fellow talents. And Chelsea and Ore praise his ability to "lift up other peoples' voices"
He name-checked the big names in the scene. Now listen to them, right here.
About #Merky Books
Stormzy had this to say about expanding his #Merky brand to the world of publishing: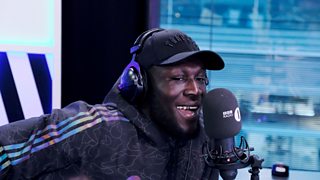 "I know too many talented writers that don't always have an outlet or a means to get their work seen, and hopefully #Merky Books can now be a reference point for them to say "I can be an author", and for that to be a realistic and achievable goal… Reading and writing as a kid were integral to where I am today and I, from the bottom of my heart, cannot wait to hear your stories and get them out into the big wide world."