Main content
GrownUpLand
Comedians Heidi Regan, Sophie Duker with Ned Sedgwick and Steve Ali consider the adult world in GrownUpLand. But what do we know about our guides? Here's what they were prepared to reveal about themselves.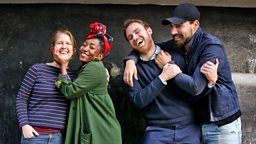 Your new GrownUpLand hosts: Heidi Regan, Sophie Duker, Ned Sedgwick and Steve Ali.
Sophie Duker
Sophie Duker once ate a daffodil. Not even for a dare. She just ate a whole daffodil, pro bono.
Sophie is fluent in French and falling in love. She once wept barefoot on the steps of a Parisian metro wearing a silk dress and it was possibly her romantic peak.
If you think Sophie is a diversity hire, she can assure you her comedy is all gammon-friendly fun.
Sophie liked Lizzo before it was cool.
Sophie has always believed herself a dog person, but is currently living with a lady cat called Dijon Mustard.
Heidi Regan
Heidi played saxophone very averagely in the school band, and now lists a 'poorly played saxaphone' as the least sexy sound known to man.
She moved from Australia to the UK eleven years ago and is still thrilled to be able to now take her weak, pasty skin outside during daylight hours.
Heidi sees all cooking as time utterly wasted because there is nothing to show once you've eaten it, which shows a weird obsession with legacy and her own mortality that she should probably address.
Heidi's response to the stress of final year school exams was to spend the study time obsessively re-reading every Terry Pratchett book.
She primarily uses podcasts to help her fall asleep and hopes that she doesn't have this affect on listeners. Or that she does, if they are also struggling with insomnia.
Ned Sedgwick
Ned lived in Myanmar for a year and can speak conversational Burmese.
His quarter life crisis involved quitting his job as an accountant and spending two weeks alone in Ukraine in the dead of winter.
As a child, Ned wore a sandwich board as part of a parade for the Lord Mayor's show, but was later furious at the lack of actual sandwiches.
Ned has worked as a pest control expert and an inspector at a silver factory.
He wants the world to know Constantius II is the most underrated Roman Emperor, because he legit is.
Steve Ali
After leaving Damascus in Syria because of the war, Steve had to travel through many countries - sometimes on foot - with no ID or passport.
Steve's favourite person in London is actually a cat called Toast.
Steve knows five guitar chords and claims this is enough.
He learned the expression 'road to Damascus moment' while in London and called his jewellery company 'Road from Damascus' which is wordplay he's very proud of.
Steve speaks four languages, one of them is Ottoman which is only useful to communicate with his 91 year old grandmother.
Former Hosts
Mae Martin
Mae Martin has been told her head looks like a kernel of corn.
She can play three songs on the piano and they're all very depressing so she doesn't play them.
Mae started doing comedy when she was 13 and in the middle of going through puberty.
She has been living and performing in London for eight years and sometimes wonders why.
Mae Martin isn't 100 percent sure what a podcast is.

Bisha K Ali
Bisha is a sci-fi and fantasy fan and knows how to craft fantasy maps.
She has lived in three different countries and speaks four languages.
Bisha is a space nerd and has an intense telescope collection.
She has sat in the cockpit of a NASA shuttle and is very proud of this.
Bisha once hitchhiked from Coventry to Prague.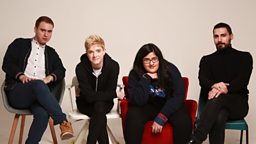 Former hosts Mae Martin and Bisha K Ali with Steve Ali and Ned Sedgwick,