Main content
Palm oil: How you can save Asia's jungles
By Emma Napper, Producer on Seven Worlds, One Planet and Deyá Ward from the Orangutan Alliance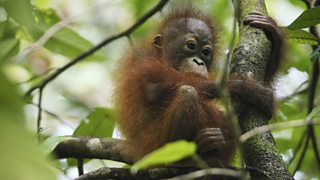 I'm Responsible
Borneo has lost almost 40% of its forest in the last 10 years to Palm oil. One of the animals most affected by this habitat loss is the orangutan. For Seven Worlds, One Planet we filmed a mother and her baby inside one of their last strongholds, Gunung Palung National park. But increasingly these beautiful creatures are under threat as their homes are cut down.
When I started making the Asia film, I had almost no idea about palm oil. But spending 4 years looking into the wildlife of South East Asia I now realise that the way we consume palm oil in the UK, is critical to looking after Asia's forests and their animals.
I don't find this depressing. I find it urgent, frightening and inspiring. I know that by changing my behaviour I can help to save these amazing Jungles. I have watched horrible footage over the years of orangutans and other animals suffering as their homes are destroyed.
But now I don't feel helpless. I can be part of the solution!
Palm oil
Palm oil is an ingredient that you probably buy every day, but maybe you don't know it.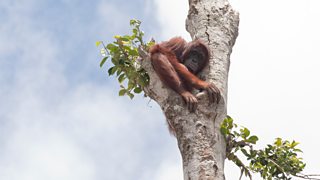 Orangutan being rescued by International Animal Rescue from areas of deforestation
It is in everything from biscuits to lipstick, biofuel to shampoo.
The companies that sell palm oil have a choice, they can produce it on existing plantations OR they can cut down more rainforest.
I have a choice too…. I can look for palm oil that is grown sustainably.
It might seem like boycotting palm oil might be a good option, but its not that simple. Palm oil is incredibly efficient and it is the vegetable oil used in half the packaged products in our supermarkets (bread, cereals, ready meals, chocolates for example). There are other vegetable oils but they grow less efficiently. If we switch to different oil it might take up more land than palm oil.
I don't think palm oil is going to go away – but it can be produced without destroying the environment.
Companies can sign up to the Roundtable on Sustainable Palm Oil (RSP0 https://rspo.org/) and pledge to
Trace where the palm oil comes from
Stop cutting down forest to produce palm oil
Even if they cannot move immediately to zero deforestation palm oil, they can use oil that is partially sustainable
An important part of the sustainable label is fair workers' rights and conditions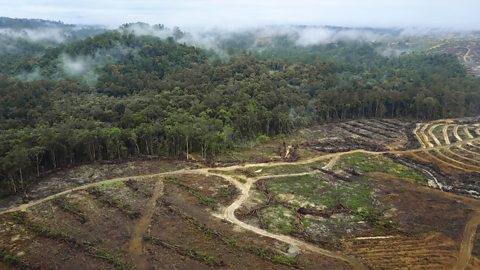 Experts explain how palm oil is affecting rainforests and what we need to do as consumers.
How can I tell whether palm oil I'm buying is sustainable?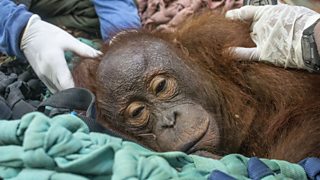 Orangutan being rescued by International Animal Rescue from areas of deforestation
"We need to be able to know the origin of the palms. Sustainable palm oil might be related to a company that has actually burned land or drained peat to plant oil palm."
Karmele Llano Sanchez, Chief Veterinarian and Program Director of International Animal Rescue
There are some apps and websites that help you see whether palm oil is sustainably sourced. Some people are also calling for a clear label on products made from sustainable palm oil, to make it easier for consumers to make a choice.
And there are websites that look at how well companies are doing switching to sustainable palm oil
Follow the BBC on #sustainableme and #begreener for more info on how to live you life with less impact on the planet!
For the last decade, a team of frontline medics has been fighting to save Borneo's critically endangered orangutans. Armed with cameras, International Animal Rescue has documented their struggle: pulling apes from devastated jungle, giving emergency medical care, rehabilitating and releasing the healthiest orangutans back into the wild. This is both the story of their life-saving work and of how one of our closest wild relatives has been pushed to the brink of extinction. Combining genuine rescue footage with contributions from experts throughout, this documentary looks toward the future and asks what hope remains to save the orangutan.

28-year-old make-up artist Emmy Burbidge goes to Papua New Guinea to see where palm oil comes from, and to find out what our beauty products are doing to the planet. She discovers there is much more to the palm oil industry than meets the eye.

Chris Packham returns to Sumatra to search for a girl from the nomadic tribe he photographed 20 years ago to discover what has happened to her jungle home. Chris travels into the heart of Sumatra and tries to discover the girl's fate by meeting the men who pulled the murdered tribespeople's bodies out of the river. On his way, he discovers just how much of Sumatra's once pristine rainforests have been replaced by palm oil plantations, palm oil which is in around 50% of the products we buy in our supermarkets. Chris learns some uncomfortable truths about how we are all in some way connected to deforestation. Will Chris find the girl alive? Or will he discover the deforestation of her island has had terrible consequences for her?