Main content
Oculus Quest 2 review: 'This stand-alone VR experience is worth the sore face'
By Jordan Middler // BBC The Social contributor // 15 October 2020
The Oculus Quest 2 is an extremely impressive piece of tech that severs the high-quality, virtual reality experience from being bound to a PC. While it's not the most comfortable headset to wear, the brilliant controllers and library of engaging experiences make it a very compelling prospect for the price.
The Oculus Quest 2 comes in two models: a 64GB and a 256GB at a cost of £299.99 and £399.99, respectively.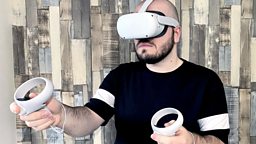 My issue with past VR headsets is that slightly higher image quality, comparable to that of a Virtual Boy, requires you to be tethered to a PC. Not only that, the PC has to be of a high enough spec so you can play VR games without being sick. Further still, your PC has to be in an area wide enough that you're not going to volley your dog out the window or punch a hole straight through your wall in some of the more movement based games.
The Quest 2 alleviates that issue by being an all-in-one VR platform that doesn't overly compromise image quality. While it's not quite powerful enough to natively run things like the behemoth Half Life Alyx, there are ways to connect to a PC in order to have those experiences.
The controllers are sturdy and have great responsiveness. The Quest 2 uses something called "inside-out tracking" meaning that the cameras on the headset itself are determining where you are and where the controllers need to be. I was extremely impressed by how accurate they were.
It's an incredibly slick machine that uses incredibly complex technology to pull off its magic.
The headstrap can become uncomfortable due to the pressure resting on your cheeks rather than evenly displaced around your head. My time with the Oculus Quest 2 was not halted from lack of interest in the game but from dull pain in my face.
There is a more heavy-duty strap that is sold separately. However, if you're not willing to fork out for that, maybe invest in some moisturiser or get used to large red marks across your face after a particularly long game of Tetris Effect.
The games
New gadgets are fun but what are you going to play on your expensive sunglasses? Well, here are a few of the experiences that I've enjoyed most during my time with the Quest 2.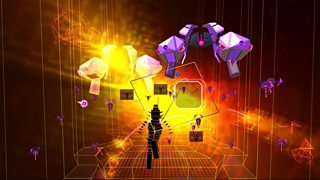 Beat Saber remains one of the most engaging experiences in VR. Basically, large blocks fly towards you while you cut them in half with a lightsaber in time to EDM. Much like Rock Band, it's just pressing buttons in time to music. The engagement comes from losing yourself to the rhythm of each level.
While the initial music selection isn't huge, DLC songs - from the likes of Green Day and Panic at the Disco - are available. Alternatively, if you want to dive into the game's huge modding community, you can flip around like Darth Maul to anything from Cannibal Corpse to the Tracey Beaker theme tune.
When Rez Infinite debuted on the PlayStation VR it was instantly one of my favourite games on the platform. It's an on-rails shooter that appears to have been designed by someone who spent a lot of time in 90s Ibiza clubs?
The game's frenetic visuals, combined with a soundtrack that'll be ringing in your ears for days, makes it one of the most captivating VR games. However, what was missing from the PSVR version was the sharpness of the visuals. It would often look muddy and the PSVR's lower power meant that some details were lost, especially during a fast-paced game like this.
The Quest 2 fixes this problem so Rez Infinite plays the way it should. It's the realisation of the acid house generation the PlayStation marketed to. Although, if someone under those influences played this, they'd have to be peeled off the floor. It's a special game and something that deserves to be played in VR.
Next on the list is Superhot VR, a game with a simple premise: time only moves when you move. With these basic parameters, the developers have managed to make the best John Wick game you could imagine.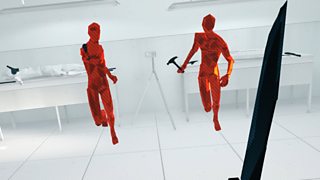 The fluidity of grabbing a pistol, shooting your ruby-like enemies to dislodge their machine gun, grabbing it in the air and finishing off their mate will have you looking around desperately hoping someone saw how cool you looked.
The non-VR version is already stellar, but that feeling of being the ultimate assassin is something that was built for VR. To me, Superhot VR feels like it should be bundled in with every Oculus Quest 2 because, in terms of a VR gaming experience, it stands alone.
The Oculus Quest 2 is the new standard in wireless VR. It's an incredibly slick machine that uses incredibly complex technology to pull off its magic. It's very user friendly and perfect for showing someone new to VR exactly what it's all about.
Attach my Mum to a HTC Vive and I'd be worried she'd drag my PC halfway across the room before she even got through calibration. But with the Oculus Quest 2, she was Beat Sabering to The Greatest Showman so effortlessly I wondered if I'd get it back.