Main content
David Bowie in his own words
Producer Des Shaw interviewed David Bowie during his lifetime, but listening back to Bowie's words for Radio 4 documentary David Bowie: Verbatim he found he still had much to learn about the iconic star.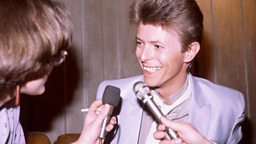 David Bowie at the Nationwide Rock and Pop awards in 1981
Early in his career David Bowie was driven by a desire to escape the suffocating normality of suburbia, which he described as "a desperation to inhabit an otherworld" – a world in which he could let his imagination run wild and draw on a wide range of influences to ensure that he always presented himself as someone that could never be considered 'normal'.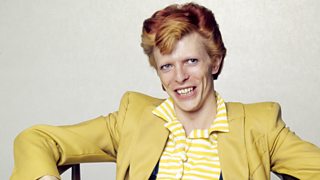 David Bowie in 1974
Bowie was always convinced that he would make it"
While spending hundreds of hours over many years listening to dozens of interviews which David Bowie recorded throughout his career, the one recurring theme that he was always keen to highlight was his continual search for material that fuelled his need to never appear predictable. And to be a star. A very big star.
He was always convinced that he would 'make it' – even when he wasn't sure exactly what direction his art would take him. Which is why, when he first began performing, he experimented with so many wildly different styles of music. As long as he was able to perform in front of an audience, even it was only five people in a pub, David felt he was gaining important experience that would serve him well when the rest of the world finally caught up with him.
While recording an interview with David in 2001, where we talked about the many transformations he engineered in his early career, David emphasised how important it was for him to "suck in" as many disparate influences as possible, each one a reflection of the artists who possessed qualities that impressed and inspired him.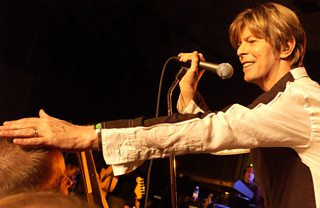 Bowie performing at the BBC in 2002
At various times in the 1960s David experimented with skiffle, folk, psychedelia, jazz, mime, rhythm and blues, rock'n'roll, music hall, drama and comedy, and each time he tried something new he discovered an element that he would file away and revisit during later iterations of his many personas.
While laughing hysterically at his 1966 attempt to mimic one of his earliest heroes Anthony Newley, in what he described as "truly abysmal tosh", even though he dismissed the end result with disdain, David couldn't fault his own commitment to his artistic cause. And it's that commitment and conviction that was obvious throughout his career.
He always immersed himself completely in the task of discovering as much as he could about his chosen style of music at each turn, to ensure he was fully informed. And anything he learned, no matter how trivial, was all part of his determination to inhabit his favourite place – his 'otherworld'.