Main content
See the Wind

360º panoramic view of the garden
Best Elements Garden
Designed by Joan Mulvenna & Andrew Lee
Taking its inspiration from wind blowing through barley fields, this garden makes it easy for all those who experience it to visualise the wind.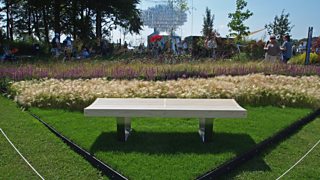 The central focus of the garden is a wind cloud sculpture which was designed by Andrew Lee. The sculpture consists of 1,437 reflective tell-tales all of which capture every subtle detail of the wind's movement.
There is a limited array of plants that feature in this garden and each of these plants manages to capture a different aspect of the wind's movement perfectly.
Plant list
Hordeum Jubatum - Ornamental grass, barley relative
Salvia nemorosa 'Amethyst' - Hardy perennial, sage relative
Aihum spaerocephalon - Bulbous perennial, onion relative
Deschampsia - Ornamental grass
Phyllostachys aurea - Bamboo