Main content
Ligurian Farinata with Red Onion and Lots of Black Pepper
The Art of the Larder by Claire Thomson (Quadrille) Photography © Mike Lusmore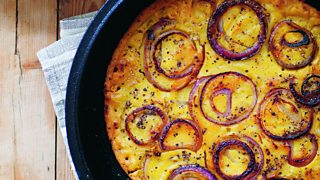 Ligurian Farinata with Red Onion and Lots of Black Pepper
1 quantity of batter
olive oil, to cook
1 red onion, sliced into rounds
2 tablespoons freshly ground
black pepper
1 lemon, halved, to serve
salt
MAKES 2 SLIGHTLY THINNER PANCAKES
Prepare the batter as on page 141 and divide the mix in two, to make two thinner pancakes.
When ready to cook, heat a well-seasoned 30cm castiron frying pan to very hot.
Add about 2–3 tablespoons of olive oil, and pour half the batter into the pan. Quickly distribute half the onion rings into the batter and continue to fry over a moderate to high heat for 2–3 minutes. Add half the black pepper to the batter as it cooks.
Check to see that the underside is nicely crisped, then quickly flip the farinata over and cook on the other side for a further 2–3 minutes, until the sides are crisp and the onion beneath has softened and coloured considerably.
Remove from the heat and serve immediately, with plenty of lemon squeezed over the farinata and salt to taste. Repeat with the remaining batter, onions and pepper to make the second one while you eat the first piping hot.
Socca or Farinata
Socca, as it is known in the south of France, or farinata, as it's called in Italy, specifically in Liguria, is a popular street food. It is baked flat like a pancake and cut into wedges.
450g warm water
250g gram flour
3 tablespoons olive oil, plus extra to cook
½ teaspoon sea salt
In a bowl, mix the water with the gram flour, olive oil and salt. Cover and let stand for about an hour at room temperature.
More Food on the BBC
Browse our selection of recipes from top chefs, cooks and food writers who have joined us on Woman's Hour...

Download this interview, or subscribe to the Cook the Perfect...downloads