Main content
How do you go the toilet in the snow, miles from a bathroom?

For over a year, ten pupils from Bathgate Academy and their teacher have been asked a rather unusual question: "How do you go to the toilet in the snow?"

That's because they've been part of an extraordinary, life-changing expedition: a 50km trek across the snowy mountains of East Greenland.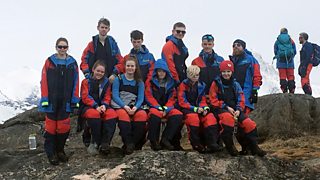 You make the wall to hide behind, so no one can see you.
Accompanied by a highly qualified team of Arctic guides, they spent their days skiiing across the wintry terrain, cooking their own food and pitching tents for the night. Oh, and building fences to protect them from marauding polar bears.
But back to the toilet question.
"First, you have to cut ice blocks for the wall. You make the wall to hide behind, so no one can see you.
"You need to dig the hole, but not too close to the wall. Take the shovel with you so people know you're in the toilet.
"Put one foot either side of the hole, unzip your salopettes from your torso down to your ankle, pull it round and squat. It's the same for boys as well as girls."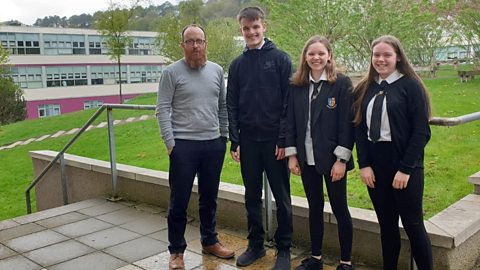 Tip 1: Don't fall down the toilet! Ellis Mackay and 3 pupils share what they've learned.
More top tips for the next time you're skiing across Greenland
Staying warm at night
"Your sleeping bag is only as warm as you are, so if you're cold then your sleeping bad will stay cold too.
"Go for a quick run outside and then jump straight into your sleeping bag. Because you're warm, the bag will heat up to the temperature you are and that'll keep you warmer.
"You can also put the water you've boiled up for cooking into your water bottle and put that down the bottom of your sleeping bag to heat it up."
Drying your socks/hat/gloves
"Stick them in the bottom of your sleeping bag, too, so they warm up and dry out."
Don't leave your boots outside
"Someone in our team left theirs outside one night; the next morning they were frozen solid."
Let out the moisture
"Open some of the zips and vents inside your tent so the moisture we breathe out can escape.
Otherwise, in the morning, all the moisture freezes and, if you hit the side of the tent, it'll start snowing!"
Packing up your sleeping bag
"Turn it inside out first. Something that would take you 15 minutes now takes maybe three."
Be bold and start cold
"When you start skiing in the morning, you'll heat up really quickly.
If you start with just your base layer on, or just your waterproof jacket with its vents open, then you won't heat up as quickly and have to stop as often."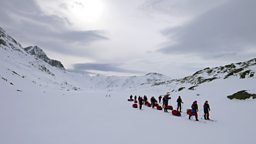 Latest features from BBC Scotland
BBC Scotland's series of programmes that chart the monumental rise of hip-hop.

Marjolein and Ransom FA talk about their respective hometowns of Lerwick and Aberdeen.

Do cashless payments benefit both business and consumer?

The award-winning team behind BBC ALBA's FUNC take aim at the US President.

Rose Reilly won the 1984 Women's World Cup after playing at the highest level in Serie A.

A tea grower in Perthshire believes low temperatures give her plants a unique flavour.

Changing your driving style could benefit your wallet.

Police Scotland's murder investigation team allowed camera access to harrowing murder case.

Sisters Onnagh and Breagha Cuinn are a riot grrrl two-piece from North Scotland.

Alistair Heather talks to schoolchildren taking part in the inaugural Doric Film Festival.

Frank Quitely spoke to Mirror Mirror about how he started out as a comic book illustrator.