Main content
10 fashion ideas that will help save the planet
For the fashion-loving consumer who wants to go green, here are ten emerging innovations, trends and tips for being sustainably stylish.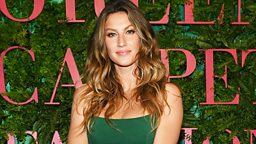 Milan hosted the very first Green Carpet Fashion Awards where big names like Gisele in the trade gathered to respond to calls for greener fashion.
1. Sustainable cotton
Cotton production has a devastating effect on the environment. The global average water footprint for 1 kilogram of cotton - the weight of one man's shirt and a pair of jeans - is somewhere between 10,000 to 20,000 litres. It would take someone 20 years to drink that much water! The crop also requires huge swathes of land to be cleared and gallons of pesticides. But it's now possible to seek out sustainable products: Marks and Spencer, Tesco and Sainsbury's have all committed to 100% sustainable cotton by 2020. Let's hope other retailers cotton on.
2. Fruity fabrics
Innovative fabrics made from fruit are making waves in the fashion industry. You can now get your hands on garments made from orange fibres, pineapple husk or apples. Apple leather is manufactured by mixing waste from the fruit with polyurethane, another renewable texture, to make a light, durable and environmentally friendly fabric. Now, that's upset the apple cart! Alongside materials made from fruit bi-products, plastic bottles are being spun into a yarn called 'Newlife'. (Don't worry, it doesn't have to be transparent.)
3. Less is more
Clothing purchases are on the up. In 2016, it is estimated that 1,130,000 tonnes of clothing was bought in the UK. But many young people are saving up their coffers for more expensive but better quality items, which in turn are more durable. Holding on to our clothes for longer helps to reduce the huge impact of clothing production and processing. Remember: buy cheap, buy twice!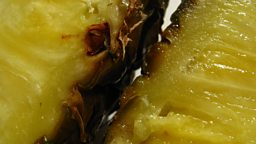 Fancy a pair of pineapple trousers?
4. Don't shop, swap
You might feel like you've worn that glittery top to too many parties, but your friend has been coveting it for years and will jump at the chance to get her hands on it. Why not swap it for something she owns that's old to her but feels new to you? We can increase the life of a garment by swapping with friends and family or by donating to a charity that can redistribute to people in need. Research conducted by the charity WRAP (Waste & Resources Action Programme) would suggest that we're getting better at this. Although sales are on the up, the amount of clothing in household residual waste in the UK has reduced by 50,000 tonnes since 2012.
5. The lucky trousers theory
Studies in psychology show that we are more likely to keep hold of a garment which has symbolic meaning. If we believe the trousers we had on for a successful interview were 'lucky' then we're going to want to wear them for our next one. The same applies for a birthday dress, wedding waistcoat or anniversary anorak. We should all build a narrative around our clothing that makes us feel good when we wear it and be loath to lose it.
6. Turning down the temperature
Saving the planet doesn't have to mean wearing stained shirts. Just wash your clothes at 30 degrees Celsius rather than 60. According to WRAP, the carbon footprint has been reduced by 700,000 tonnes through households washing their clothes at lower temperatures, and ironing and tumble-drying less frequently. A great excuse to pack away the ironing board and wear those crumpled strides with pride.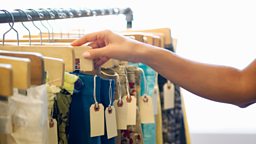 Is your next pair of lucky pineapple trousers in here?
7. Online exchange is on the up
More and more of us are using sites like Ebay and Etsy to buy and sell second-hand clothes. Everyone loves a bargain! As well as an increase in online exchange, the vintage clothing industry has ballooned – with quirky, vintage and retro clothes filling our wardrobes. And on the high street, many mainstream chains are introducing second-hand or reconditioned stock, making it easier to give an old piece of clothing a new home.
8. 3D printing
Tel Aviv based fashion designer Denit Peleg has designed and developed her own range of 3D printed clothing using a strong and flexible filament called Filaflex. Pick up a 3D printer and you can design and print your own clothes without leaving the house.
9. Make do and mend
Repairing garments that are worn out, have developed faults, or which no longer fit is something our great-grandmother's were a dab hand at. But sewing skills have largely fallen by the wayside, with many of us struggling to attach a button. Thankfully, repair cafes, surgeries, workshops, and online sewing tutorials are all gaining popularity. Learning to take up a hem, darn or patch a hole, or replace a zip could be the difference between wearing a garment again and tossing it in the trash. Up-cycling is also on the up – we're learning how to breathe new life into items by adding a new pocket, or turning jeans into shorts. For the lazier amongst us, it's worth remembering that most dry cleaners offer an affordable repair service.
10. Solar accessories
Technologically advanced fabrics are emerging with the aim of actually rewarding the user, making us more likely to wear them again and again. One such fabric is solar fibre – solar cells produced in yarn shapes and woven into fabric. It might not be long before we are wearing solar scarves that we can plug our phone into – a portable charger with the added benefit of keeping the neck warm.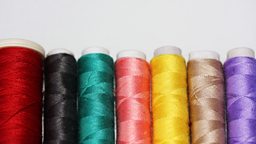 Mending those lucky pineapple trousers after that that over-eager power slide last week.
Lucy Siegle has had a keen eye to the fashion industry and has been charting efforts to improve things. In Costing the Earth, Lucy heads to La Scala in Milan for the very first Green Carpet Fashion Awards, rubbing shoulders with Gisele, Anna Wintour and Giorgio Armani, where the big names in the industry are gathering to respond to calls for greener fashion.