Main content
How to buy a puppy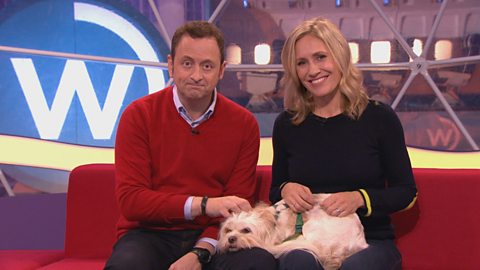 Matt & Sophie talk through some important Puppy Buying Tips with our rescued puppy Gizmo.
Most importantly ask to see the puppy's mother
Ideally both parents would be around but you should at least see the puppy's mother. If you are given excuses as to the mother's whereabouts or why you can't see her then be cautious. If the mother is happy, the puppy should be happy. Ensure you see the puppy in its breeding environment. If the puppy wasn't bred on site then ask to see the kennelling conditions. Do not buy the puppy if the conditions don't seem right.
Avoid an impulse purchase. Try and see the puppy several times before purchasing.
If the breeder is selling different breeds of puppies be wary. Unless they are a trusted breeder they shouldn't offer up different choices of puppy to you as a buyer.
Avoid an impulse purchase
Try and see the puppy several times before purchasing, this allows you to build up a relationship with the breeder which should continue after purchasing the puppy. Don't pick your puppy up from an arranged location e.g. a car park or service station. Be very careful about purchasing your puppy online. Ideally you should see a puppy several times before purchasing.
Pay attention to the puppy
The puppy should be busy, inquisitive and have a happy demeanour. Be wary if their coat and eyes are dull instead of bright. If the puppy is shy or nervous it is very likely that it has been denied social interaction.
Arrange to have your new puppy checked by your veterinary surgeons as soon as possible after purchase.
Puppy paperwork
Make sure you see the health certificates for the puppy's parents. That way you can look out for any inherited issues linked to them or their breed. Ask if you can return the puppy if you need to. This shouldn't be a problem with a trusted breeder.
Check with the local authority that the breeder is licensed. The breeder should have a license if selling 4 or more litters a year. If the breeder is claiming that their puppies are pedigree, check they are part of a registered scheme or accredited breeder, like the Kennel Club.
How to spot a puppy farm or puppy dealer
A place where puppies are sold without any paperwork or certification – this includes not getting a receipt after the sale. Puppies may also be sold with fake documents.
A puppy farm would typically have a lot of outbuildings with closed off rooms that you aren't able to access. This includes trailers, sheds and barns. They may also be found operating out of seemingly normal homes.
The puppies are often shown to you in a cage or a crate in a puppy farm. Be suspicious if they have been recently bathed and look out for soiling or staining on the coat.
A strong indication of a puppy farm would be if the seller offers up different breeds of puppy for sale, or shows alternative litters if you change your mind about the one you want.
If the seller makes excuses about why you are unable to see the mother, or one who is very young and doesn't seem to be related to the puppy. Ideally you would want to see them interact with one another to see their relationship. The mother should also recognise her own name.
If the seller has limited or superficial knowledge about the breed they're selling. They should be able to answer every question you have about the puppy.
If the breeder isn't interested in you or doesn't ask you any questions about your own knowledge or situation. They should be just as concerned as you about the purchase of one of their puppies and take comfort that their puppy is going to a good home.
For pedigree breeds the actual pedigree chart should look official. If it is a hand-written document or a photocopy it is unlikely to be genuine.
Ask Questions
Did they breed the puppy themselves?
Can I see the parents of the puppy?
Are the puppies kept where they were bred?
How many puppies were born in the litter?
Have the puppies been treated for worms or other parasites?
Will the puppies be given their first vaccinations before they are sold?
Has the puppy had a health check by a veterinary surgeon as part of that first vaccination?
Have the puppies been micro-chipped or have any other form of identification?
Have the puppies or their mother ever had any health issues?
Have the parents been screened for any inherited problems that are linked to their breed?
How much people contact and play has the puppy had?
Will all information and care guidance be included in a "puppy pack"?
Has the puppy been trained to live in a house or has it spent its life so far in a kennel environment?
Will there be a financial receipt?