Main content
9 of the most magical moments from BBC Music Day
Check out the full video below of local indie heroes Blossoms giving a surprise, early morning pop up performance at Manchester Piccadilly Station live on BBC Breakfast, backed by the 40-strong Sense of Sound Choir and the RNCM Pop Choir. One onlooker summed things up as simply "amazing."
1. Blossoms kick things off bright and early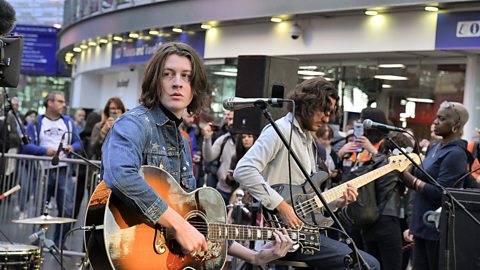 Blossoms surprised commuters with a special performance, featuring the RNCM pop choir
2. You can stand under the ADHD Foundation's umbrella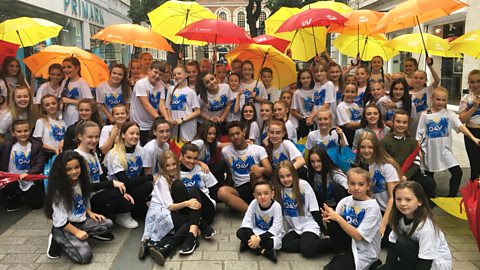 A performance celebrating the gifts and talents of those with ADHD on BBC Music Day
With the aim of uniting young people living with the condition through the power of music, the ADHD Foundation staged a special flashmob event in Liverpool. Dubbed the Umbrella Project, the event, understandably enough, united a group of children under umbrellas. Each umbrella was signed by a child, and each saw each child stating what their own special superpower is. Just one of the grassroots community projects to celebrate BBC Music Day.
3. Beyoncé, the most powerful woman in music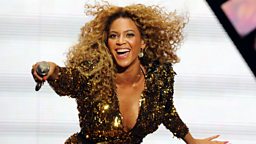 Queen Bey unsurprisingly topped a poll commissioned by Women's Hour. Taylor Swift, Cardi B and Nicola Benedetti also featured highly.
4. Lisa Stansfield - all around the Metrolink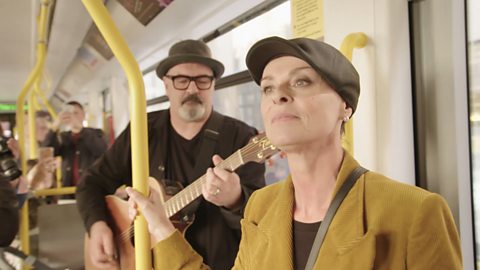 Lisa surprises passengers on the Manchester Metrolink with a pop-up performance
Queen of northern soul Lisa Stansfield delighted commuters on Manchester's Metrolink network with a surprise pop-up performance. The local siren also recorded a number of light-hearted punning tannoy announcements, broadcast throughout the day. Speaking about her involvement with the celebrations, she told BBC Music: "I just think it's important that people realise how important music is. And not to take it for granted because it is a really special thing. People can connect and make connections with music. Music can help your health. It can bring people out of themselves. It's like a medicine."
Also popping up across the tram network were Rowetta, Lady ICE and CBBC's Hacker.
5. Bez causes Bargain Hunt chaos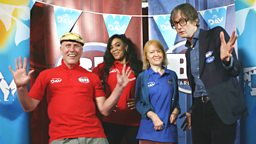 Happy Mondays legend Bez lived up to his bad-boy reputation by inadvertently breaking the rules of a special Music Day edition of Bargain Hunt. When he and bandmate Rowetta faced off against Pulp's Jarvis Cocker and Candida Doyle, trouble soon emerged. The show's rule book does not allow family and friends to take part in the auctions, but Bez's girlfriend bid and won his team's two auction items, a mirror and a turntable, leading the Mondays to victory with an £8 profit. The rulebreak forced a reshoot of the ending, and led to Pulp being awarded victory - despite having lost £95 on their auction items.
6. Nile Rodgers tells it like it is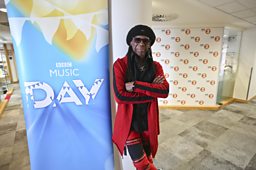 BBC One's late night political talk show This Week got an unexpected dose of the funk on Thursday night when Nile Rodgers popped into the studio to celebrate BBC Music Day. Speaking about the often complex links between music and politics, the Chic legend told Andrew Neil; "I always look at music as having multiple purposes. Sometimes it's very direct, you can talk about what's going on in that exact moment, but you can also talk about music in a very idealistic way, you can talk about how you want things to be." Cheering up a show otherwise dominated by Brexit, he then closed things out with a solo version of 'Le Freak'.
7. It's Kylie!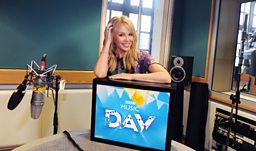 What could be a more perfect way to finish your working week than to be greeted by Kylie on your way home? "Of all things I never thought I'd be making train announcements. It's pretty awesome." We agree. The reigning empress of pop surprised passengers by recording special tannoy announcements for train stations across the UK. Who said the UK's rail network was in crisis?
8. The power of music over the mind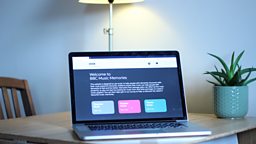 BBC Music Day launched a special initiative to demonstrate the potential of music to help people living with dementia to feel and live better.. BBC Music Memories allows users to share their top tunes to trigger memories. Studies show that that music can reach part of the damaged brain in ways other forms of communication cannot.

Tim McLachlan from the Alzheimer's Society said: "From talking to people with dementia, we know the positive effect music can have, helping people at all points on their dementia journey. In latter stages, some people who may no longer be able to communicate much or at all through language can be transformed when they hear a song they recognise - joining in singing and dancing along. This is going to be a fantastic online tool to trigger music memories for those with dementia."

Containing snippets of around 1800 tracks - from popular and classical, to TV and radio themes themes - Musical Memories hopes to create a bank of music that triggers powerful emotions and memories. BBC Music Memories is supported by organisations including Alzheimer's Society, Alzheimer's Scotland, Dementia UK and Carers UK.


9. Choirs across the land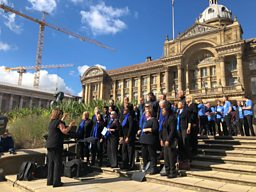 Choirs and special guests could be heard across the country from dawn til dusk at railway stations as part of Platform to Perform for BBC Music Day. And it didn't stop there as the UK united through the power of song. Bristol saw 17 different choirs descend on its prestigious venues Colston Hall and M Shed for one of the biggest-attended regional events of the day. In Birmingham, workplace choirs sang their way through the city to join the BBC Singers and a dementia choir at New Street Station.

The celebrations spread far and wide all over the UK, with choirs from walks of life, from school choirs to recovery choirs to rock choirs and all choirs inbetween. And it's that spirit of community unity that is the beating heart of BBC Music Day. See you next year.