Main content
Why I wander Britain looking for love stories
Matt Hopwood has walked thousands of miles around Britain, talking a little and listening a lot. On canal towpaths and hillsides, in church halls and pubs, the musician-turned-storyteller has gathered a huge archive of everyday love stories - some of which he'll share at the Edinburgh International Book Festival. He told BRUCE MUNRO about his heartfelt journeys.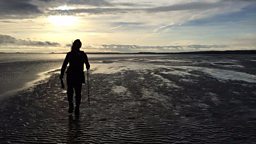 Matt walked from Lindisfarne, off the northeast coast of England, to Lewis, in the Outer Hebrides
Hopwood's extensive interactive project A Human Love Story - an archive of real-life stories about all aspects of human relationships - has been evolving since 2011 and was released as a book earlier this year.
But he is a reluctant documentarian of our emotions. "I was very shy and nervous about it in the beginning," he says. "It took a long while for me to get the confidence that actually it's a great opportunity for people. Most people are really delighted to be asked, whether they can share or not."
When Hopwood takes his trips, he travels light, carrying just a small bag and stick. Initially he didn't even carry recording equipment, simply seeking to engage strangers in conversations.
He says: "Further along the line people kept saying, what about these stories? You could extend that experience to help people understand and connect if we could hear some of those stories. So I began a couple of years later to bring along a small recorder and, where it was possible, I asked people if they would share their stories."
"I met a woman who had very severe post-natal depression. She was at the point where she couldn't lift her baby up because she was so terrified she would drop the baby. Her whole story that she shared took place on a forum, where she got support from people – she'd never even seen their faces and she's still never even met them. And yet they formed this amazing framework and they nurtured her and got her through that experience."
Hopwood's journey began by accident. He says: "I was a musician and I was recording an album in a little church in the South Downs. We didn't lock the door, and people kept wandering in and sitting down and they'd listen to us. Some would start talking and they kept sharing things that were quite poignant and compelling.
There was all these human emotions encapsulated in those little stories
"They would talk about how they were married here but they were no longer with their partner. Or that their parents were buried here. Or they had fond childhood memories here. There was all this loss and sadness and all these human emotions encapsulated in those little stories.
"And when I came to think about how I wanted to share the songs from the album, I thought actually what I wanted to do was allow other people to share their stories, to have a conversation. But I had no money and I knew I wanted to do it in a way that was very gentle and very compassionate and very human. So I thought I would walk.
"I decided to walk out of my front door and go on a journey that would take me from place to place. I took my guitar and I would play along the way, I would meet people along the way, I would engage in conversations. I would share the songs as if they were my love story and provide people with this space to share theirs."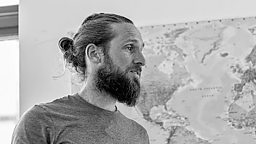 Matt hears painful as well as joyous stories
"I met a guy who told me about how he'd gone away travelling, and five days into it he got a phone call from a girl he wasn't with any more. She was pregnant. He'd gone on this journey to create a new life and five days into that experience he found out he had a child. He now had this ongoing relationship with a woman that he didn't love, with a child he hadn't wanted. And then on the other side he had this child that was giving him these amazing, beautiful experiences."
Hopwood says he was not trying to create an opportunity for himself. He adds: "It was about opening space for other people, to feel safe and nurtured and to be able to be heard."
I will share first. I always allow myself to be vulnerable
So how does he foster an environment where complete strangers will open up him? "I'm still learning and evolving," he says. "But part of a safe space is that there is an edge within it in which you can be brave. So it is safe and nurturing but it is a slightly challenging space.
"I've learnt along the way that I have to be as present as I can in the moment we find ourselves in. That sounds a bit woolly but in reality it's just about being very still and being with someone, without the need to control them.
"I will share first. I always allow myself to be vulnerable. I always share something of where I am – joyous or extreme or painful. That seems to open up a space for other people to enter into."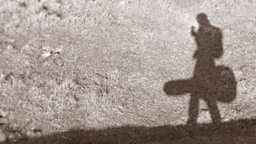 On Matt's first walks he carried his guitar with him as well
"I met with this amazing group of women who talked about their inability to tell their parents that they loved them. One woman hadn't been able to tell her father that she loved him and he then passed on, and then this other woman was at this point where she wanted to tell her mother but she just couldn't say the words 'I love you'. And that was her love story of that moment."
More from the Edinburgh Festivals 2018
More from BBC Arts on iPlayer
Elite dancers from across the globe create a modern-day Swan Lake from their own bathtubs

The Oscar-nominated actress gives a singing masterclass