Main content
Back of ye net
As England, Wales, Northern Ireland and the Republic of Ireland (sorry Scotland!) prepare to do battle at the European Championships, we take a look at Shakespeare's little known and somewhat brief connection to football.
Unlike tennis, which was played by the likes of Laertes in Hamlet and the French Dauphin in Henry V, football during Shakespeare's time was seen as a lower class sport and mainly involved kicking a makeshift ball through the streets in a rough and ready fashion, with few rules.
There are two references to football in the Bard's plays.
Michael Morpurgo writes 'A Fox and a Ghost King', inspired by the Foxes Premier League win and Richard III

Experience the genius of the Bard's creativity and its reinterpretation by artists in all art forms.
In King Lear, Kent refers to Oswald as a "base football player," likening him to a lowlife. In The Comedy of Errors, Dromio asks Adriana, "Am I so round with you as you with me, that like a football you do spurn me thus?," wondering why she's metaphorically kicking him around like a football.
Both of these quotes seem to suggest that one person is beneath the other, in line with the view at the time about football as a sport. As Shakespeare is for everyone, we're sure he'd be a football fan if he were around now, swapping his ruff for a scarf and yelling at the top of his voice, "the referee's a stewed prune!!!"
Here's a look at a Home Nations Euro 2016 team that the Bard would be proud of...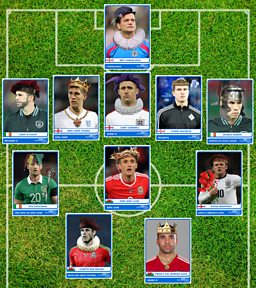 Starting in goal...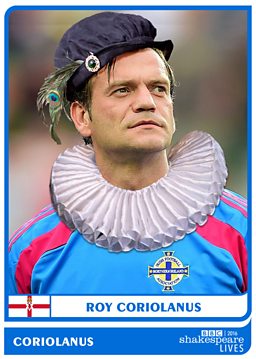 Roy Coriolanus - Roy Carroll as Coriolanus
Across the back...
John O'Gaunt - John O'Shea as John of Gaunt from Richard II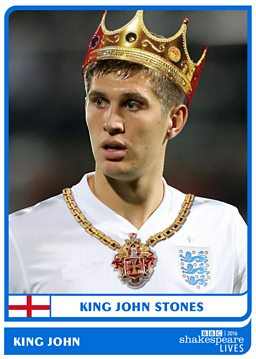 King John Stones - John Stones as King John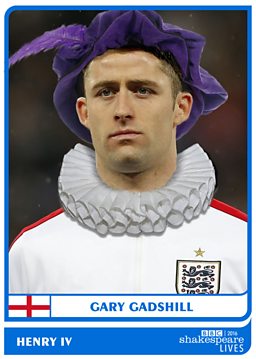 Gary Gadshill - Gary Cahill as Gadshill from Henry IV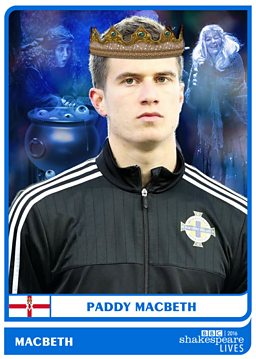 Paddy Macbeth - Paddy McNair as Macbeth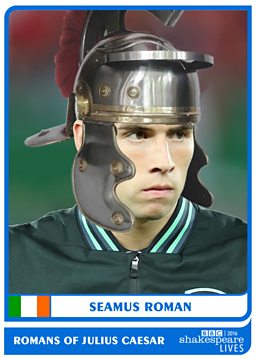 Seamus Roman - Seamus Coleman as a Roman from Julius Caesar
Through the middle...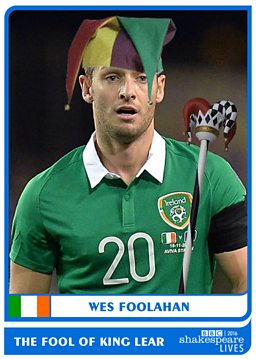 Wes Foolahan - Wes Hoolahan as the Fool from King Lear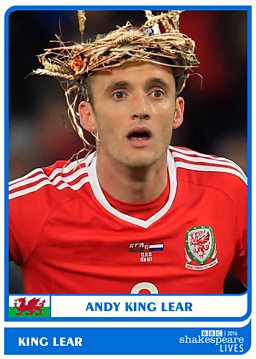 Andy King Lear - Andy King as King Lear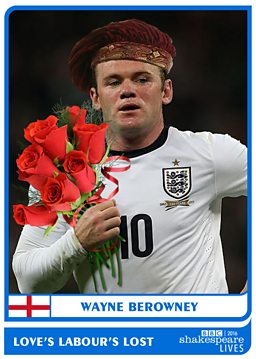 Wayne Berowney - Wayne Rooney as Berowne from Love's Labour's Lost
And up front...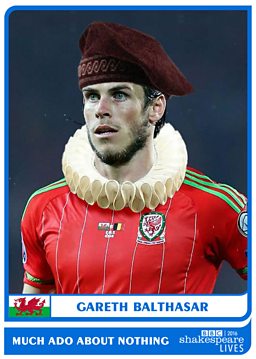 Gareth Balthasar - Gareth Bale as Balthasar from Much Ado About Nothing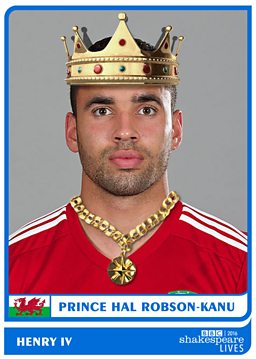 Prince Hal Robson-Kanu - Hal Robson-Kanu as Prince Hal from Henry IV