Main content
Phoebe Waller-Bridge on Woman's Hour: Nine things we learned
Phoebe Waller-Bridge, the award-winning writer and creator of Fleabag, sat down with Woman's Hour for an in-depth interview with Jenni Murray.
They discuss all things Fleabag - from religion to sexual fluidity, and the relationship between feminism and bigger boobs - plus the power of friendship, Killing Eve and working on the new Bond film.
Here are nine things we learned about Phoebe Waller-Bridge…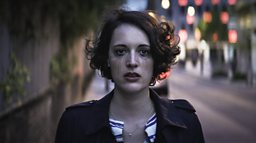 (Image credit: Fleabag - BBC / Two Brothers)
1. Female friendship is her greatest love story
"I think friendships are the greatest romances of our lives," says Phoebe, who credits Fleabag's existence to real-life friend and collaborator Vicky Jones, who directed the original stage play.
The award-winning writer and actor on Fleabag, fame and the romance of female friendships.
"Vicky and I would joke that our boyfriends were our mistresses to our marriage and our love story. Which doesn't go down so well with the boyfriends, I've got to say.
"[Female friendships] are so profound and complex," adds Phoebe. "Just seeing 'giggly girl gang' kind of portrayals is something we've become used to, that girls are sort of 'cliquey' or that gossipy thing. [But] female relationships have such depth."
"I don't want to generalise, but we learn to talk to each other from such an early time in our lives… And we can say that we love each other, and it's an easier thing for us to say. I mean [with Vicky] within a week I was like, 'I think I love you'."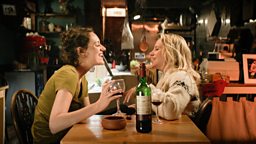 Fleabag and Boo (Image credit: Fleabag - BBC / Two Brothers)
2. Both she and Fleabag have a 'complex' relationship with feminism
"I sometimes worry that I wouldn't be such a feminist if I had bigger tits" has got to be among the show's most quotable lines, and Phoebe admits Fleabag's relationship with feminism is "complex".
Even when I start being asked about it, a little bit of my heart starts beating a little bit faster, because I know that there are mines that you can step on.

Phoebe Waller-Bridge on the nuances of feminism.
"She's vulnerable with it, she doesn't understand the rules of it. She knows in her bones that it's the thing that she wants to be, and she wants to identify as a feminist, but she feels like she's letting feminism down all the time," says Phoebe, who is honest about feeling "quite similar" in real life.
"That scene in the first series when someone asks them if they would rather trade five years of their life for the perfect body, I would have been the girl with the hand up. I would have been like, 'hell, yes!', and then thinking that's empowering because it's honest, but then feeling at the same time that it's letting the side down. Caring so deeply about women and equality and the basic principles of feminism and then being slightly frightened by the nuances and traps out there. I still feel like that. Even when I start being asked about it, a little bit of my heart starts beating a little bit faster, because I know that there are mines that you can step on. And I think I'll probably always have that."
3. She is 'extremely comfortable' writing about women and violence
"Very comfortable… as long as it's not without the other side of the story," clarifies Phoebe, who also crafted Killing Eve's brutal hit woman Villanelle.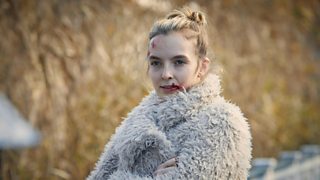 Killing Eve's brutal hit woman Villanelle (Image credit: Sid Gentle Films / Robert Viglasky)
"Villanelle is interesting because she's so incredibly vulnerable and childlike moments before or after she commits this heinous act of violence. I'm not into a character who's just going to go and shoot lots of people… I want to see the whole picture.
The fact that she can be so gentle with a piece of clothing that she adores and then just smash somebody's eyeball with a pin, and she has the same amount of excitement and thrill from both, was exciting to me because you don't really see people's extremes in real life."
Phoebe says the bloody nose that opens Fleabag season 2 came quite naturally when she started writing. "I was as surprised by that first scene as anybody. I was like, 'gosh, who hit her? And why was there violence?'. I think I'd been really influenced by writing Villanelle. There is something electric about writing about women and violence, because it's rarely portrayed with that extra emotional element to it."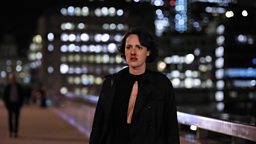 Fleabag with a bloody nose (Image credit: BBC / Two Brothers / Luke Varley)
4. The hot priest's declaration of love nearly didn't happen
Christened 'the hot priest' by the internet, actor Andrew Scott was a "huge, huge part" of the Fleabag process according to Phoebe, including deciding if he should say he loves her in that heart-breaking final scene.
"That wasn't in the script actually. I was debating whether or not he should say it back for a while and then when we got on set, [Andrew] was like, 'He has to say it back! Because 'it will pass' being the last thing he says could be a bit harsh.'
"I think it was important because it was the first time that he said something to her that was just purely about his own emotional state and how he felt about her outside of his faith, outside of religion, just about their connection. And there's something so pure about those words when they're used properly. There was something about the symmetry of them saying it to each other [that] made it feel equal. That was the basis of what was inspiring to me about these two is that they saw each other as equals. He treats her as an equal and she treats him as an equal, even though they find each other extremely eccentric in their belief systems. They could share it together."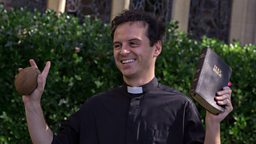 Actor Andrew Scott, christened 'the hot priest' in Fleabag by the internet. (Image credit: BBC / Two Brothers / Luke Varley)
5. She didn't expect people to care about 'the hair speech'
After her sister Clare's new haircut transforms her into "a pencil", Fleabag says in a now infamous speech: "Hair is everything. We wish it wasn't, so we could think about something else occasionally, but it is." Phoebe says she never expected so many people to relate to something that started as "a small idea", but the reaction was "the best feeling in the world".
When that happens, that's when I just feel a little bit less alone in the world, because I'm just like, 'You too? Oh thank god!'

Phoebe Waller-Bridge on little truisms.
"I had a conversation with my sister where I was like, 'Why is hair so stressful? And why does it feel like it's everything?'. We had such a sense of relief talking to each other about it, and then that goes away but a kernel of it stays in the back of my mind. Then I think, 'Oh I'll just write a little bit about that, just as a nod to that conversation I had with her' - or just because it feels a little bit true. And those are always the ones that surprise you and blow up because they're these little truisms. When that happens, that's when I just feel a little bit less alone in the world, because I'm just like, 'You too? Oh thank god!'.
6. She has a thing about foxes
"I just love a fox," Phoebe says of the nocturnal animal, whose regular mentions in season 2 of Fleabag spawned almost as many internet think pieces as the hair speech.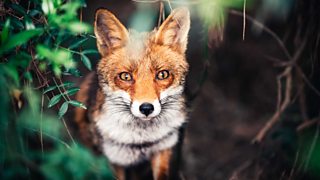 "There's such a swaggering sexiness about the foxes in London - they own the city, it's theirs, we're in their way. We put the lids on the bins and that's the greatest irritation for them.
"I was writing the scene about [Fleabag and the priest] talking about celibacy - maybe I was getting too tense writing it - and then the fox speech just came out of nowhere. I just started writing it to make myself laugh and then I sent the episode to Andrew and he was like, 'I cannot wait to do that bit'. I'm always thinking about the actors [when I'm writing]. I want them to read it and go, 'oh! I can't wait, I can't wait, I can't wait."
7. It's important to keep her own private life private
"I think when people realise that you're just on your sofa watching Netflix with your boyfriend - that you're actually as boring as everybody else - they kind of lose interest if you're not doing anything wild," says Phoebe.
"I think it's just keeping it as private as possible and I've always had an instinct about that. You know, keep what's really precious to you as close to you as you can, and try and make the work more interesting than your life to people."
8. The Bond stuntmen make gun noises when they're rehearsing
It was "a big old yes, please" when Phoebe got the call that Bond producer Barbara Broccoli and Daniel Craig wanted to talk to her about working with the writers on upcoming film No Time to Die.
"You have these incredible conversations about this iconic character who you've grown up with. And then suddenly when you're on board it's like every other job, because everyone is just making a story, making a thing work, and you're just suddenly in a room again with post-its on the wall," says Phoebe.
"And then you go to the loo and you'll see a set being built outside for some extraordinary thing and you're like, 'oh yes, this is different.' It was actually seeing the stunt people, the stunt guys practising. And they actually hold their hands like guns like kids when they're rehearsing it. I was walking past and they all go 'pew, pew, pew' for the gun sound. That was my favourite takeaway from being on a Bond set."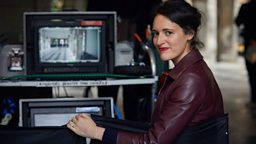 Phoebe on the set of Killing Eve (Image credit: Sid Gentle Films / Robert Viglasky)
9. She teams up with best friend Vicky again for her new show Run
Phoebe is next on our screens in Run, an HBO series that airs on Sky Comedy in April and brings the dream team of Phoebe and Vicky Jones back together.
"I am an executive producer and I have a role in it, but it's completely Vicky's baby. I'm playing a character that she wrote for me, this gorgeous, quirky unusual character that I would probably never have been cast in if it wasn't for her. There's just something so cool about it coming back round to us working together again, except now its HBO and we were filming in Toronto with this incredible set. So it's been a delight."
Fleabag: The Scriptures is out now.